You put in your time and money to Make a great Niche Website
It's Time To Automatically Fix Your Amazon Affiliate Links
The Most Essential And Easiest To Use WordPress Plugin For Your Amazon Affiliate Website. 
You Will increase Revenue The Moment You Use It.
Or Scan Your Site For Free Now
Is your Amazon Affiliate site earning its MAX potential? Find out with our Free Site Audit Tool!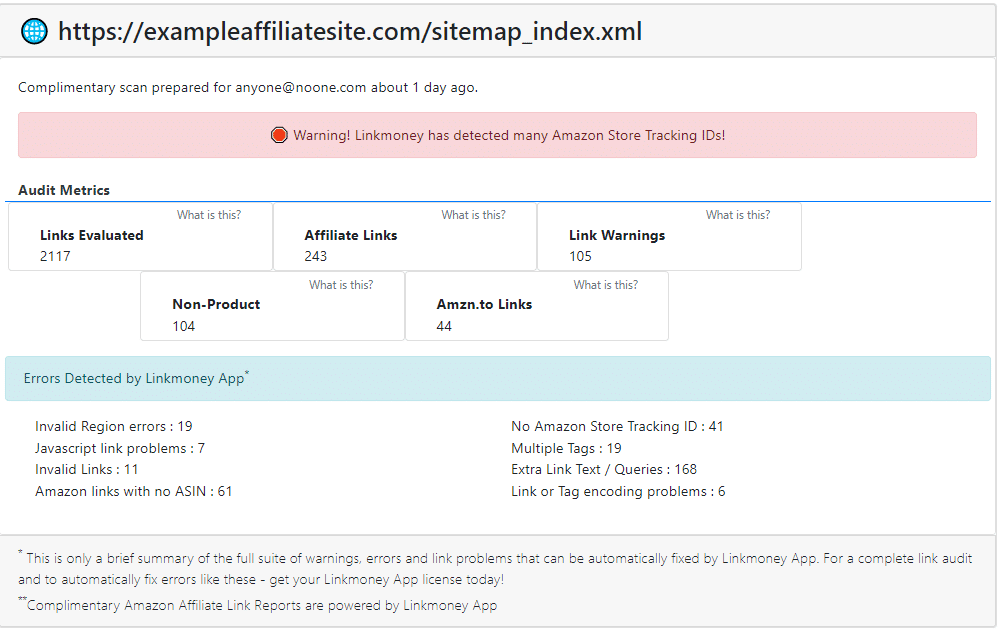 SPECIAL NOTICE: Linkmoney Has Acquired Affiliate Link Fixer!
We are excited to announce that Linkmoney App has acquired affiliatelinkfixer.com. 
We would be lost without Linkmoney! We have thousands of amazon links that have existed for years. Linkmoney fixed hundreds of links we were not receiving credit for. This alone paid for the subscription instantly. We also found suspicious Amazon Shop IDs that we didn't own. If you want to rest easy that your Amazon links are working and making money, Linkmoney is a critical tool for any site using Amazon links.
We are a family owned business that have built our garden site as a labor of love. Since it is just my wife and I making content, publishing, and maintaining the website, keeping our Amazon Links up to date hasn't been easy. Linkmoney not only identifies all of our "broken" Amazon links but fixes them instantly. One of the few plugins that is easy to calculate ROI.
Fanatic4Fishing.com is a relatively new site, but keeping our Amazon links up to date had already become a chore before we found Linkmoney. Now with just a click of a button, our links are scanned, diagnosed and fixed. Every Amazon link makes money. That simple.
Linkmoney App is a game changer for affiliate marketers. Checking that every affiliate link works properly is technical, time-consuming, and tedious. I no longer have to hire someone to manually scour my website links. Linkmoney app did it all in a matter of minutes. Linkmoney App found and fixed significant issues that I was unaware of - that will lead to increased revenue for my business. Linkmoney app easily paid for itself based on the number of problems it fixed. I highly recommend Linkmoney App to anyone who wants to save time and increase revenue!
I recently started using LinkMoney for my Amazon Affiliate marketing and it has been a game-changer! Before, I would constantly have to manually check and update my affiliate links, which was time-consuming and often resulted in broken links. With LinkMoney, all of my links are automatically fixed and updated, saving me hours of work each week. Not only has this increased my efficiency, but I have also seen an increase in my earnings thanks to the accurate tracking of my affiliate links. I highly recommend LinkMoney to any Amazon Affiliate marketer looking to save time and increase their earnings.
Powerful Linkmoney Features
Linkmoney App is a powerful link fixer that can find and fix broken Amazon affiliate links in a matter of seconds. With Linkmoney App, you no longer have to spend hours scouring through your website and manually fixing broken links. Instead, you can let Linkmoney App do the work for you.
Linkmoney Automatically Checks Your Affiliate Links
Ever wish you could push a button and all your problems go away?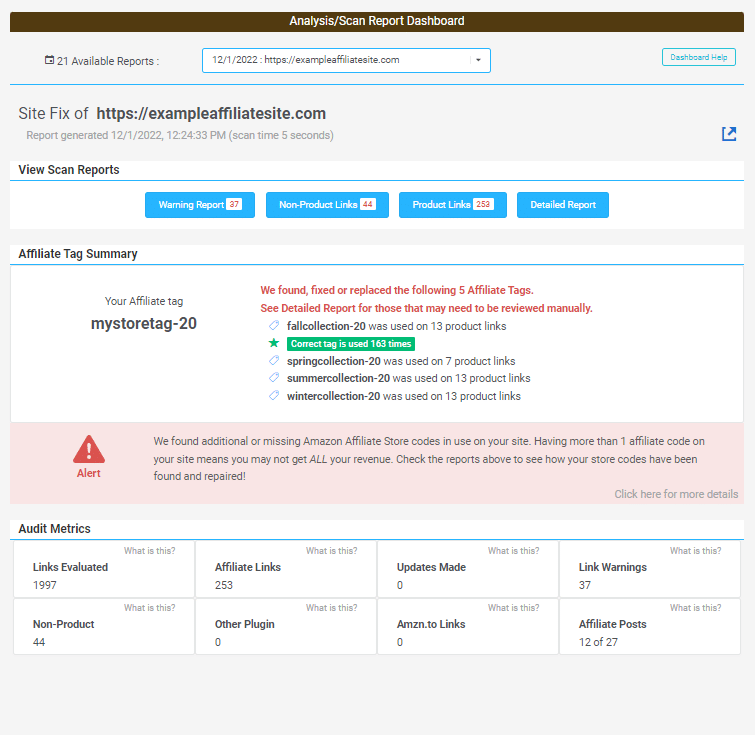 Linkmoney Automatically Fixes Your Affiliate Links
It's one thing to know that you have Amazon Link errors, the other is how are you going to fix them all?
Linkmoney does all the work for you by automatically fixing your affiliate links. 
The Linkmoney Fix Scan works fast. A 1,000 post site takes about 7 minutes to check and fix all links. 
Link errors on Amazon Affiliate sites could total in many thousands of errors. 
Linkmoney A.I. is better than humans. It doesn't make mistakes.  A.I. knows the different between the letter "O" and the number zero "0" as an example. 
Often times when people try and fix thousands of like errors, they introduce new link errors and never know. 
Linkmoney can automatically check and fix your Amazon Affiliate link issues in the time it takes to read this page. 
Want Linkmoney A.I. to Check and Fix your Amazon Affiliate link problems?
Linkmoney Reports Everything
We believe that helping you to understand what the issues on your Amazon Affiliate site are, will help you and your team in the future. 
Is there a plugin that has malformed a bunch of Amazon Affiliate links? 
Is one of your contractors creating links incorrectly?sing your correct Amazon Store Tag on every Amazon affiliate link ?
What exactly did Linkmoney App fix?
Each time Linkmoney runs, it creates a full link audit for your site: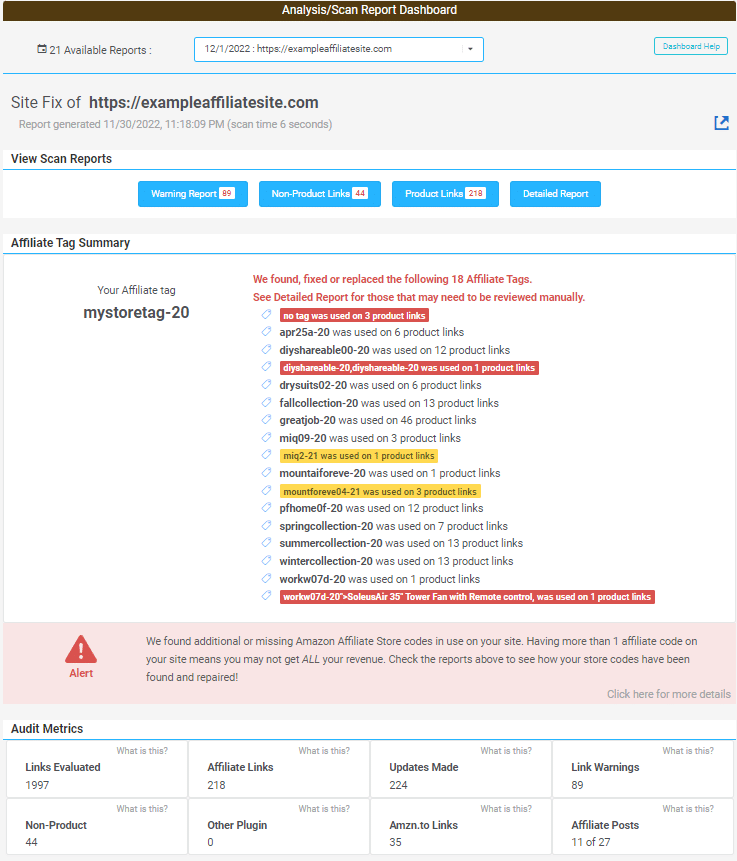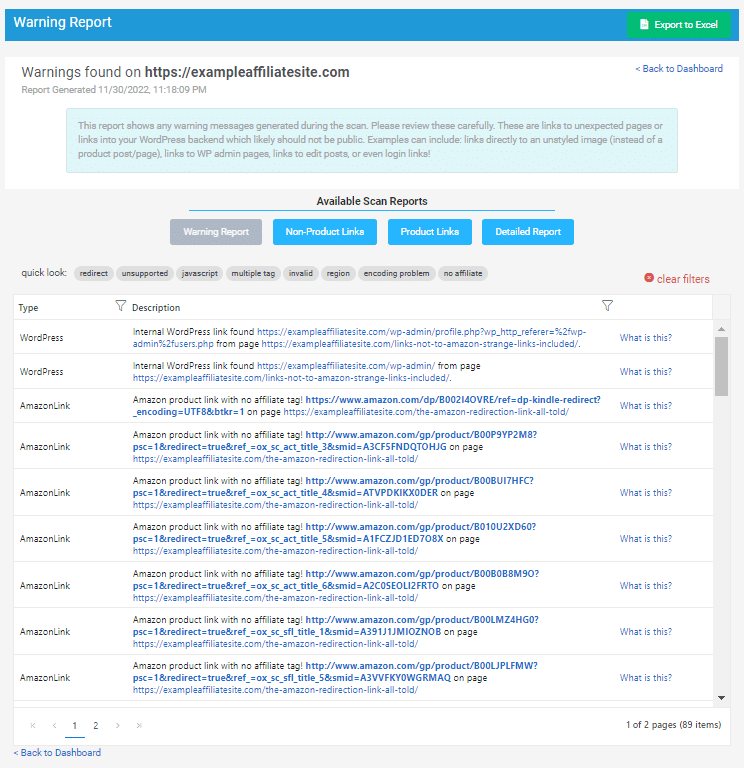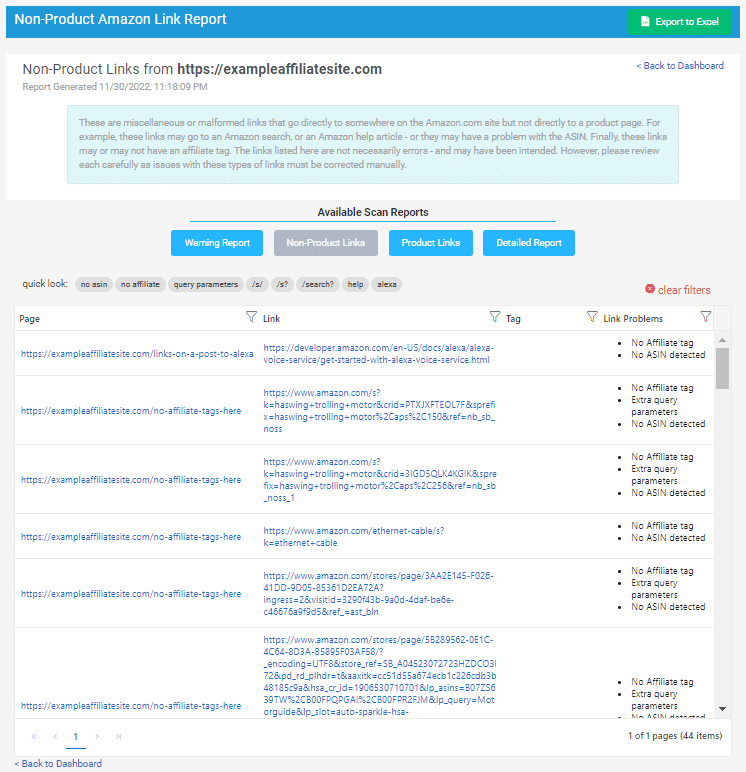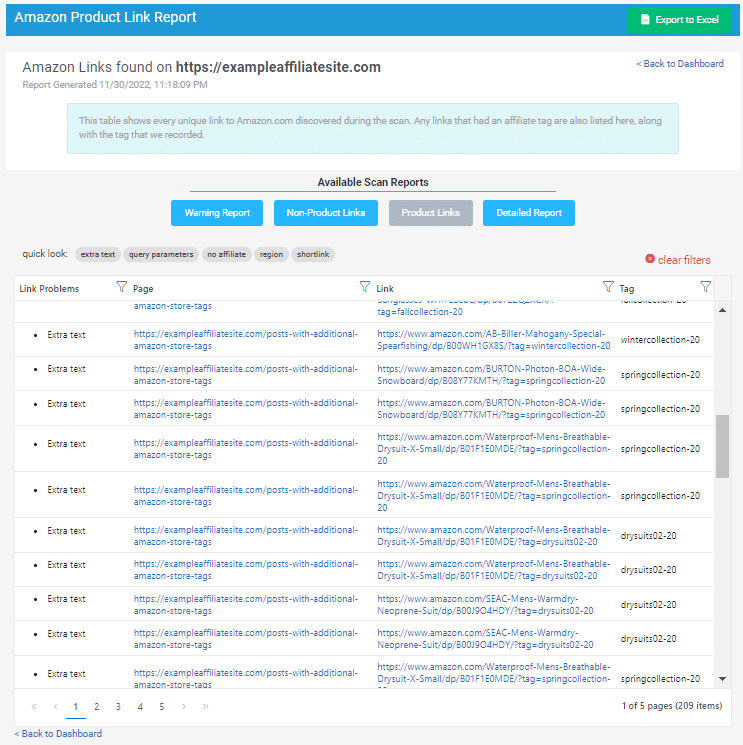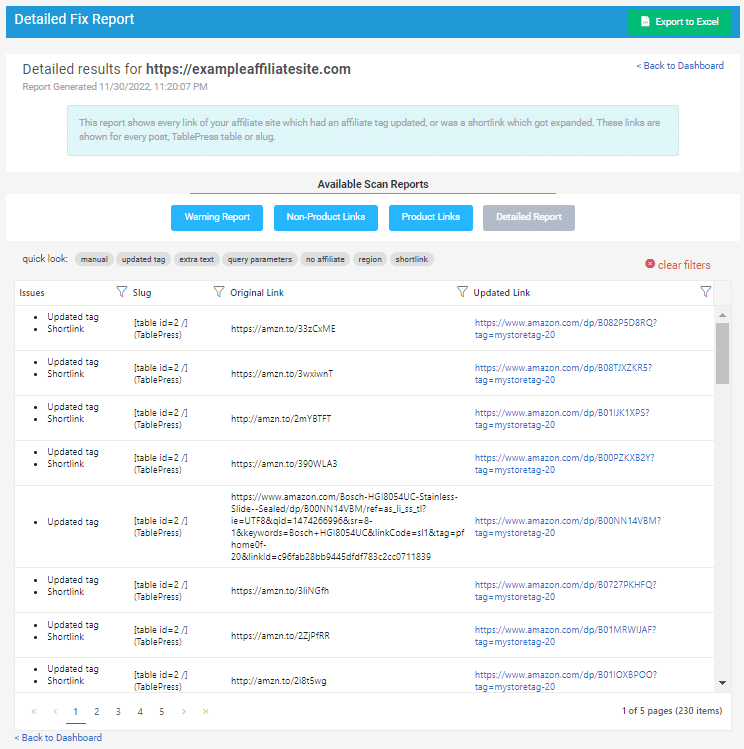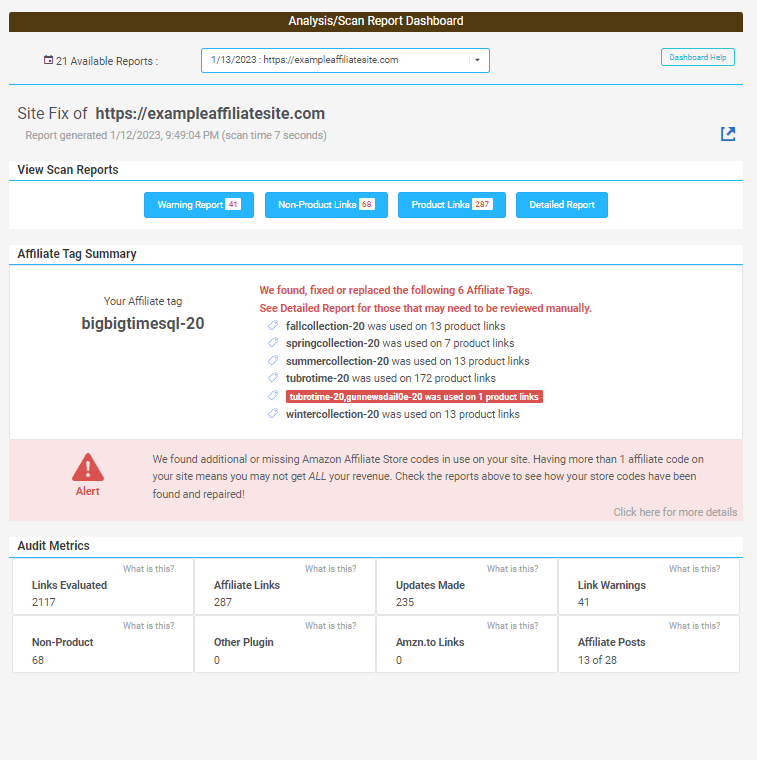 Are ALL your Amazon Affiliate links making you money from your traffic?
| Action per article | Time per task |
| --- | --- |
| Look at the article to find links. | 1-3 minutea |
| Examine and click each link to see where it goes (10 links). | 4 minutes per article |
| Document which links have issues (average 3 issues per article). | 3 minutes (if you are fast) |
| Time it takes to examine and document Amazon Affiliate links for a Single article. | 7 minutes |
The time it would take to check and fix all the Amazon affiliate links on an affiliate site makes doing that nearly impossible to manually attempt. 
Many site owners have more than one Amazon Affiliate site too. 
To start a project to check each affiliate link, one by one is an enormous task. Then fixing any bad affiliate links takes a lot of time and thought. 
If you have a team, the QA to see if the work was done, would take a second team checking every single link. 
Often times, fixing links manually leads to more errors. We are human after all. 
Linkmoney A.I. doesn't make mistakes. It knows what the perfect clean Amazon Affiliate link should be and can check and fix your links at the speed of a machine.  
Linkmoney is the Amazon Affiliate website Buyer and Seller's companion
An Amazon Affiliate website that has all their Amazon affiliate links working, not broken, and has the correct Amazon tracking ID is worth more money to those who buy or sell Amazon affiliate websites.
This is because buyers know the website is already set up correctly and will generate revenue from day one. 
Sellers also benefit from having an Amazon Affiliate website that is already optimized and set up correctly, as they will not have to worry about fixing any broken links or updating the tracking ID.
This saves both buyers and sellers time and hassle, and thus makes the website more valuable.
Are ALL the Amazon Store Tracking Codes on your site yours?
Linkmoney Makes You Money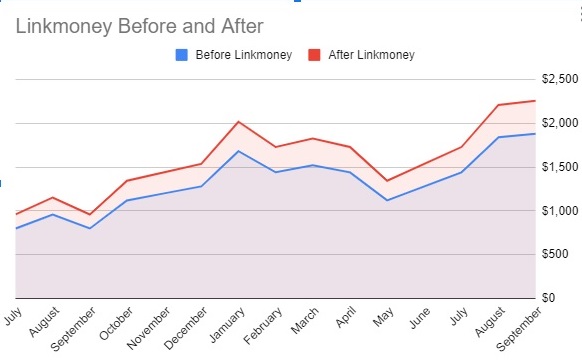 Linkmoney App makes you more revenue instantly.
If all of your Amazon Affiliate links are healthy, are working as expected, have no errors, and have the correct Amazon Associates Tracking ID, you make more Amazon Commissions from your existing traffic after Linkmoney.  
The average revenue increase after running Linkmoney is around 15% monthly. Depending on the size and traffic of your Amazon affiliate site, it could be much more. 
The average Amazon affiliate site has around 10,000 affiliate links. Many sites have more. 
The largest site ran by Linkmoney to date, had over 2.4 million links! 
Find out how many affiliate links you have, check them, then fix all of them to earn more referral commissions today.  
How many broken Amazon Affiliate links will Linkmoney fix for you today?
Run Linkmoney Any Time and Often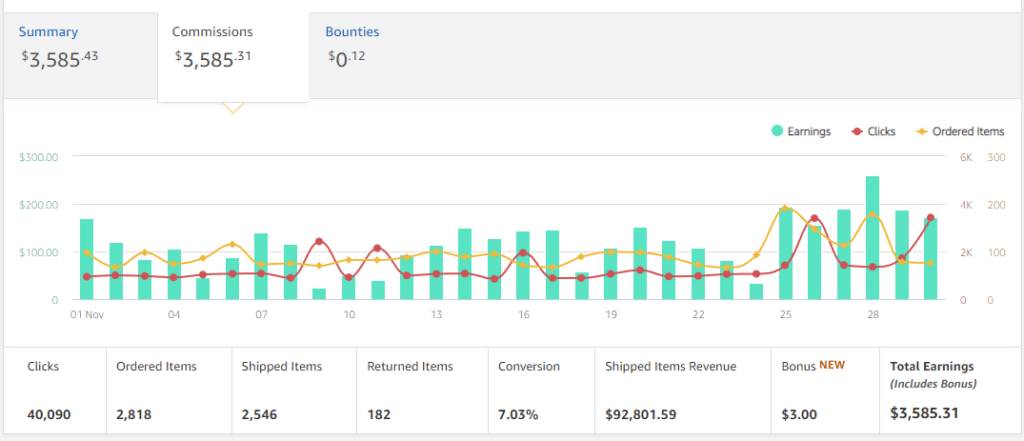 Ever wish you could push a button and all your problems go away?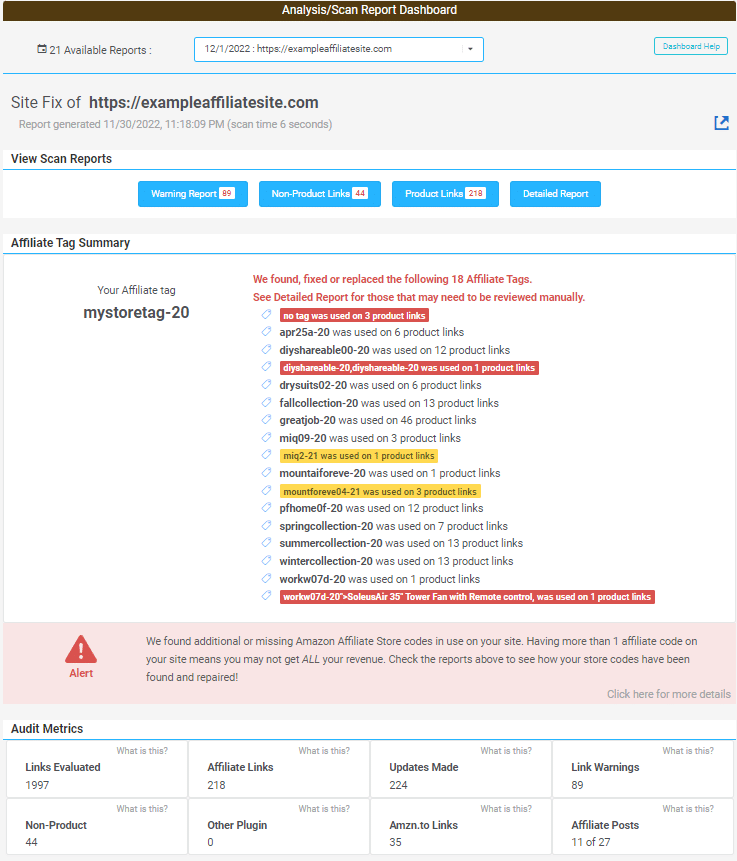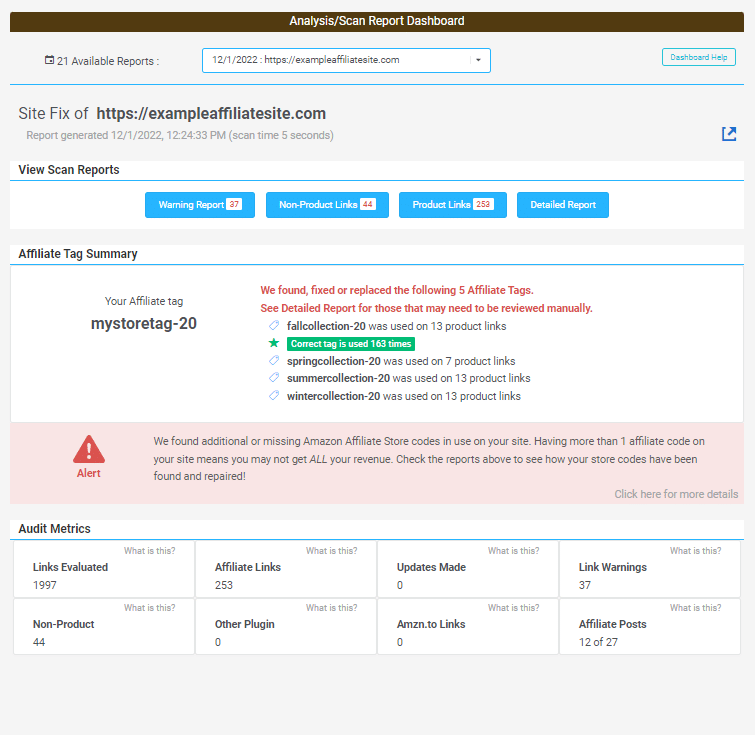 Check and monitor your Amazon Affiliate links
Monitoring your affiliate links has never been easier.
With a simple click, your entire affiliate site's affiliate link URL's, including all of your Amazon Short Codes (AMZN.to links) are checked and audited.
Each time Linkmoney runs a Fix Scan, a complete audit and set of reports are created for all of your affiliate links on your website.
Linkmoney is the only Amazon Affiliate Link Checker and Fixer on the market.
Run Linkmoney App 24 hours a day and make sure every single Amazon Affiliate Link on your site is earning you Amazon Commissions. 
Typical Site Fix With Affilaite Link Errors Found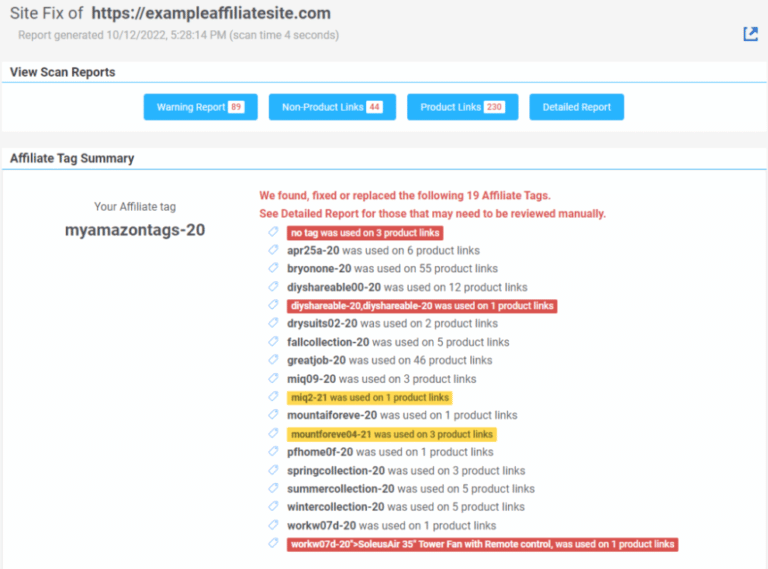 Red means Linkoney App found and fixed Amazon Affiliate links that had missing Store IDs or were broken altogether
Yellow shows Linkmoney App found and fixed Amazon Affiliate links with Out Of Country codes
White shows Linkmoney app found and fixed Amazon Store ID's that were not the main Amazon Associates Store ID
Typical Automatc Link Fix After Linkmoney App
All Amazon Affiliate Links are now fix across your website. You are now making more revenue from your traffic. 

Green shows how many of your Amazon Affiliate links that have your main Amazon Associates ID. This is optimal for earning the highest Amazon Referral Commissions from your traffic
#1 Affiliate Link Checker
Linkmoney App is unsurpassed in checking all of your Amazon Affiliate links. 
Unless you are an Amazon Affiliate link expert, there is no way to know that your affiliate links are working and not broken. Unless you check. 
An Amazon Affiliate link can look fine and even click to Amazon and still be broken!
Linkmoney App AUTOMATICALLY fixes your affiliate links for you. 
No more long hours trying to figure out what is wrong and how to fix your Amazon Affiliate links. 
Say goodbye to the huge costs of contractors endlessly trying to fix all your affiliate links.  
Fixing ALL of Your Amazon Affiliate links just got a whole lot easier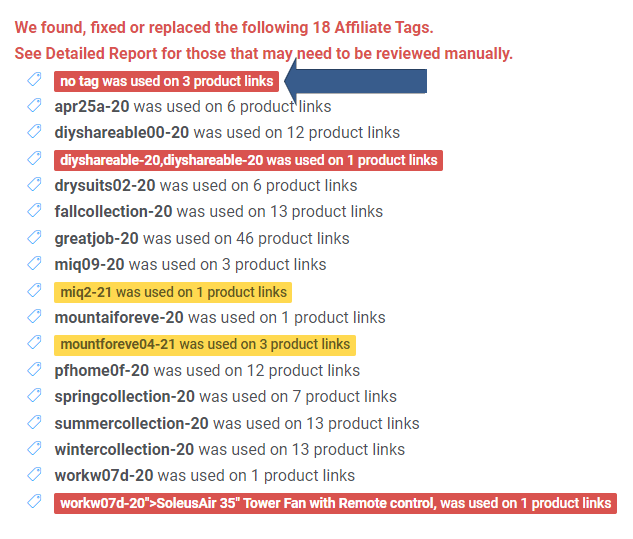 Automatically Fix Your Amazon Affiliate Codes
Linkmoney App is artificial intelligence. It's not a person, it doesn't get tired, it doesn't make mistakes, and when it is done, it's not a maybe it fixed them all.
Say goodbye to missing, old or someone else's store codes on your site. 
Just tell it what store code you want on all your Amazon Affiliate links and click. 
Afterwards, Linkmoney App will produce a report that shows you whate store codes if fixed, inserted and replaced with your desired code.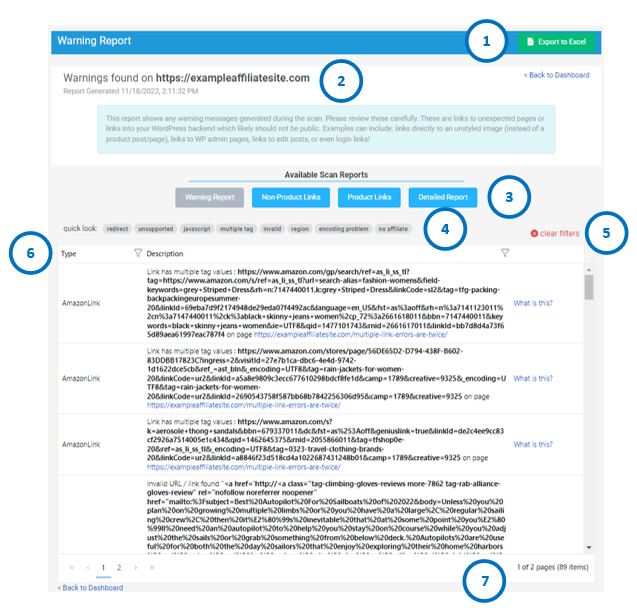 Linkmoney App creates a workable online report of every Amazon Affilaite link on your website
Want to know the health of every single Amazon Affiliate link on your website?
Forget wandering if everything is OK, with Linkmoney App those days are over. 
How many times have you thought "If all my affiliate links went to where they were supposed to go and worked correctly, I would make more money"?
We all know with thousands of affiliate links on our sites, there are most likely issues everywhere. 
The cost and complexity of manually looking for errors are enormous and pretty much impossible. 
Linkmoney App will look at your entire site, gather all your Amazon affiliate links, and put them in a nice workable report for you or your team to go through. 
Amazon Affiliate Code Issues
Wrong, not yours, or missing store codes
Malformed Or Unrecognizable Links
Completely broken affiliate links
Misdirected Affiliate Links
Amazon Affiliate links not going to Amazon
MOST EVERY AMAZON AFFILIATE WEBSITE IS LOSING MONEY
Sign up and find out if your Amazon Affiliate site is losing money. It only takes a few clicks.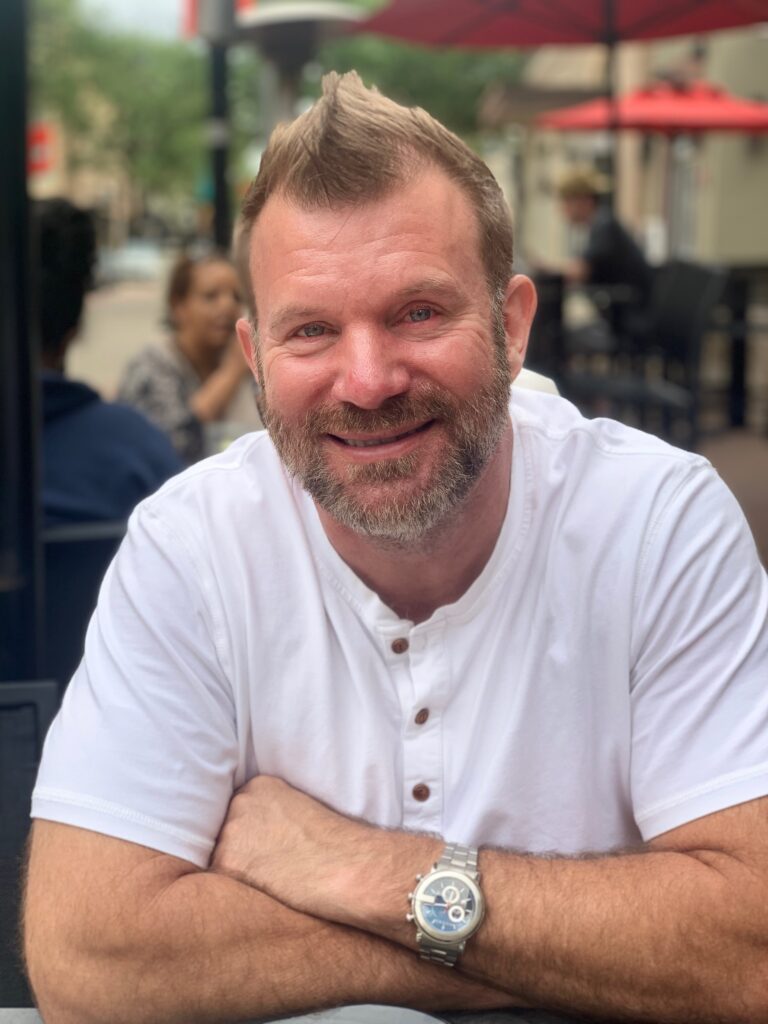 Why did I create Linkmoney App?
Hello, my name is Charles Joyner.
I own and operate multiple WordPress Affiliate websites and have a lengthy background in software.
A single website could have well over 100,000 links. I realized even a team could not track down all the issues from my affiliate links.
Linkmoney App was first created so I could fix my problems.
It worked so well, now I would like to share it with you.