Fix your Amazon affiliate links and earn more referral commissions from your existing traffic.  This is why I built Linkmoney App.
Are you currently an Amazon Affiliate looking to increase your commission revenue through your website? I am excited to introduce you to the Linkmoney App!
Our team is here to make sure you are utilizing yourAmazon affiliate links to their fullest potential.
Linkmoney app is the perfect solution that can optimize your links in just a few simple steps. Rest assured, we'll help you maximize your Amazon Commission revenue.
Don't hesitate to connect with us today! Together, we can take the first steps towards your successful Amazon journey.
Note: Part of fixing your affiliate links is checking your affiliate links too. We will cover that here too. 
Why should I fix my affiliate links?
Ensuring the accuracy and currency of your Amazon affiliate links is essential for maintaining your credibility as an affiliate.
There are many mistakes affiliate publishers can make on their Amazon affiliate links. Check out this article called "Top 20 Amazon Affiliate Link Mistakes" for a common list of things to either avoid or fix. on your affiliate website.  
Links that are outdated or invalid may lead to frustrated customers, lost sales, and harm to your reputation. 
Fixing your links also provides an opportunity to leverage Amazon's up-to-date features, including tracking data and performance metrics, to evaluate the performance of your products. 
This data will help you identify areas of strength and areas that require further improvement. 
As a professional affiliate, it's imperative that you take the necessary steps to update your Amazon links regularly to maximize your affiliate marketing efforts.
Why am I getting fewer clicks on Amazon as an Amazon Associate?
It is possible that your Amazon Associate clicks to Amazon are decreasing because your Amazon affiliate links may be broken, have the wrong Amazon affiliate tracking ID, or are missing the Amazon affiliate tracking ID in the link.
Linkmoney App can help you check and automatically fix your broken Amazon affiliate links, so that you can make sure you are getting the most out of your Amazon Associate clicks.
Other reasons your clicks to Amazon may be decreasing
There may be other reasons why your Amazon Associate clicks may be decreasing on your WordPress website:
It could be caused by a decrease in traffic to your website, changes to the Amazon Associate program, or changes to the way your website is set up.
It is also possible that customers are seeing fewer relevant products being displayed on your website, or that your website is not optimized for mobile devices.
You can also review your analytics to see if there are any specific changes in user behavior that could be causing the decrease in clicks.
Additionally, you may want to review your website content to ensure that it is up-to-date, relevant, and engaging.
Bottom line- If your affiliate links are not working, you are missing clicks to Amazon and referral commissions.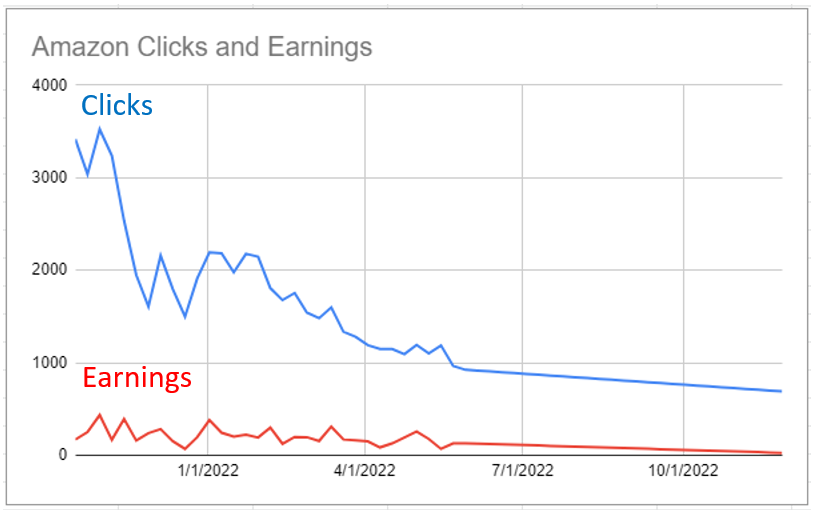 What are common problems with Amazon Affiliate Links?
Amazon Affiliate links can have many errors that prevent you from earning your Amazon Commission. There can be many errors in an affiliate link. To help you, we have created an article called "
Linkmoney App Reports Link Errors
" which highlights the common mistakes that can hinder your commission. Check out the link for more information.
1. The Amazon Affiliate Link is missing the Query String
As an expert in affiliate marketing, I can confidently tell you that one simple mistake can cost you your referral commission.
You may be missing the query string or have a corrupted link, both of which can easily be fixed with Linkmoney App.
Remember, even though the link may still click to Amazon, you won't receive the commission you're entitled to without the query string.
Don't let these errors hold you back from the success you deserve in affiliate marketing. Using Linkmoney will identify and fix any mistakes to ensure that you receive the commission you've worked hard for.
You can trust Linkmoney to check, find, and fix your Amazon Affiliate Links.
Test your Amazon Affiliate links with a URL Parser
Linkmoney will check and automatically fix all if your Amazon Affiliate Links. However, you can check your links one at a time using a URL Parser. 
Here is a tool on a site called URLDECODE.com that can check your Amazon Associates query string called "URL Parser". 
Select one of your Amazon Affiliate links from your site, then copy and paste it into the "Enter the URL" field and click the button called "Parse URL".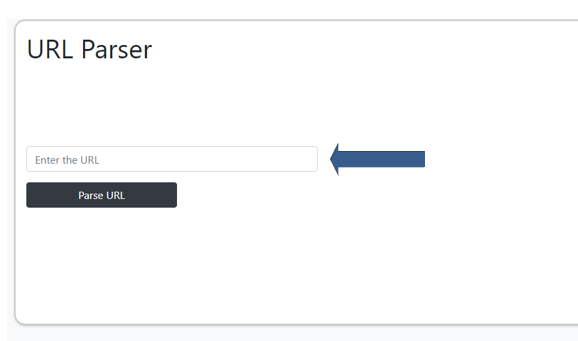 The URL Parser will decode your affiliate link and look something like this. Here are two examples, one that is missing the query string (Bad, no revenue) and one that has the query string (Good earn revenue).
Example 1, URL is MISSING the Amazon Associates query string (Bad)
The Amazon Affiliate link you entered is missing the query string which means anyone who clicks on it will go to Amazon, but you won't get your referral commission when they make a purchase.
You will need to make sure to include the query string in the link to ensure you receive your referral commission.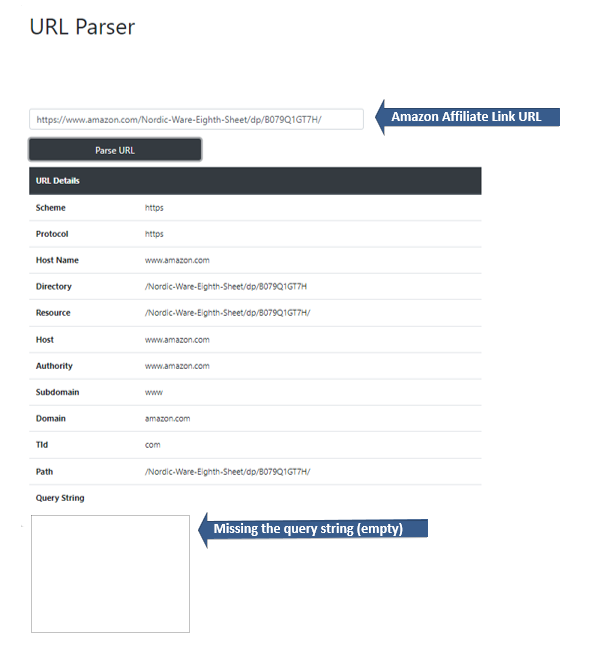 Example 2, URL HAS the Amazon Associates query string (Good)
If your Amazon Affiliate link HAS the query string (Your Amazon Store ID that earns you commission) if will show here.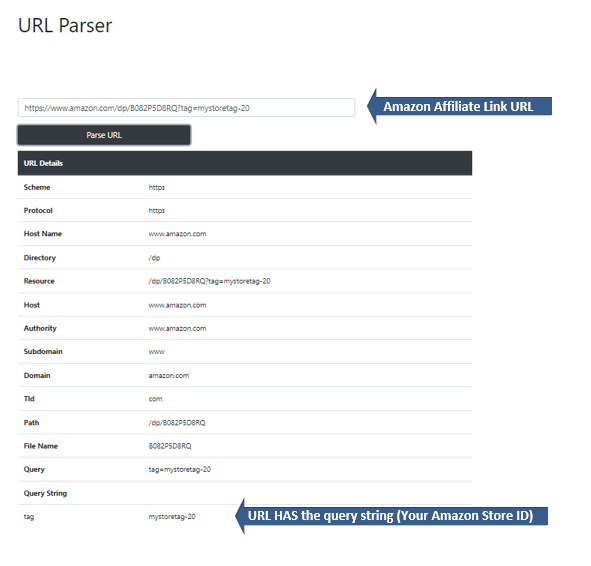 Amazon affiliate sites can have many 1,000's of affiliate links. If  you need to test one or two links, then a URL parser will do the job. If you need to test, check and fix all of the Amazon affiliate links on your entire site, using Linkmoney will save you time and money.  
How can I know if my Amazon Affiliate links are working?
Affiliate links can look fine to the eye, but still can be broken
This is an example of an Amazon Affiliate link with a search query that isn't functioning properly. However, the link still points to Amazon and appears intact.

The same Amazon Affiliate link from above was tested in the Amazon Link Checker and "Failed"
Please be aware that Amazon's Affiliate program requires you to encode your affiliate links in a specific manner to ensure you receive your referral commissions. 
Unfortunately, even if the link directs to Amazon, failure to comply with their Link Checker will result in non-payment of your commission.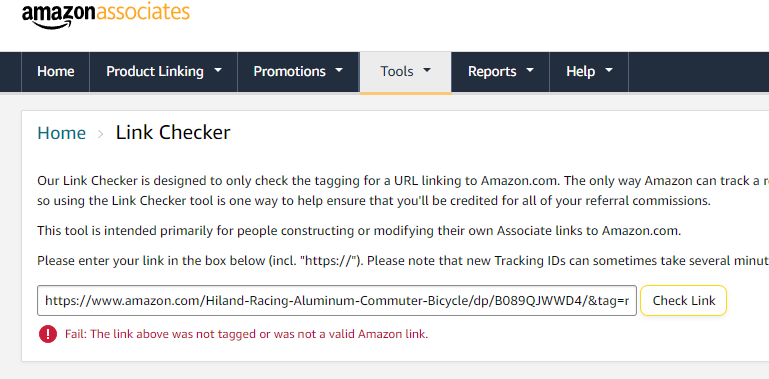 See the image below. The Amazon Affiliate link from above needs to be fixed as the Link Parser has detected a missing query string.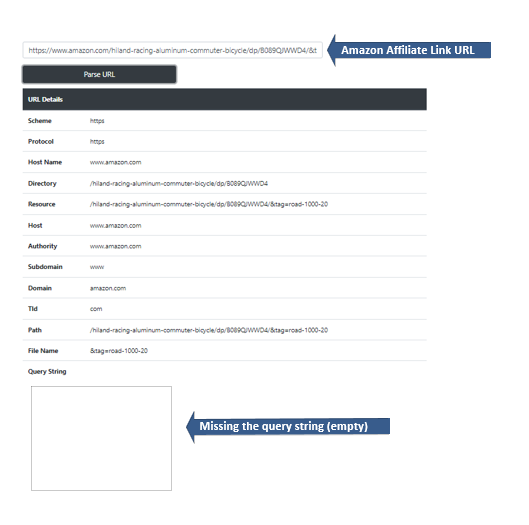 You need to use a tool to identify affiliate link errors since links can appear to be fine, but not earn you Amazon referral commissions.
Manually identifying missing query strings on multiple Amazon Affiliate links would take a considerable amount of time.
That's why we suggest using Linkmoney App because it automatically detects and fixes these errors for you. Visit our Getting Started With Linkmoney App to learn how to get started.
Are ALL your Amazon Affiliate links making you money from your traffic?
2. Amazon Affiliate Store tag issues in your Affiliate links
Here are two common Amazon Affiliate link issues to be aware of:
1. Missing Amazon Store IDs in affiliate links – this can lead to clickable links that do not contain your Amazon Associates Tracking ID.
2. Having multiple Amazon Affiliate Store IDs on your site – while this may be intentional, such as when using Amazon preferred codes, it can result in lost revenue or even giving someone else the referral commission. 
Linkmoney will ensure your site has only your Amazon Affiliate Store ID (s). 
You may have old or someone else's Amazon Tracking ID on your site
If you're an Amazon Affiliate publisher, it's possible that you have old or unauthorized store codes on your site, which could impact your commission earnings.
With the Linkmoney App, you can quickly, easily, and automatically identify any problematic store codes and replace them with the correct ones.
Don't risk losing out on your commission – get the Amazon Store Codes issues on your affiliate site sorted with Linkmoney.
Example of Linkmoney App finding multiple store codes on an Amazon Affiliate site
The below image is an example of the Linkmoney App Dashboard after a site Fix Scan was run. 
To the left is the main Amazon Store Tag on the site under "Your Affiliate Tag" is an Amazon Tracking ID called "myamazontags-20".
This example of a Fix Scan scan picked up many different Amazon Store Ids on the site. 
Affiliate Links are Color Coded in the summary
The colors used in the Affiliate Store Tag Summary are there to visually explain if there are any issues with your Store Tags and explain what they are.   
Red means Linkoney App found and fixed Amazon Affiliate links that had missing Store IDs or were broken altogether
Yellow shows Linkmoney App found and fixed Amazon Affiliate links with Out Of Country codes
White shows Linkmoney app found and fixed Amazon Store ID's that were not the main Amazon Associates Store ID
Example of Linkmoney App after automatically fixing the Amazon Store Tags

A Linkmoney App Fix Scan will display your primary Amazon store and its usage after completion. If you have multiple Amazon affiliate tags and some reserved tags, your Dashboard will reflect this.

Linkmoney App will either check, fix and replace all of your Amazon Affiliate Store Tags, or reserve the ones you would like to keep. 
See this article called "Linkmoney App Reserved Store Tags" for more information on reserving multiple Amazon Store IDs.
3. Amazon Affiliate Links Missing Amazon Tracking IDs
Sometimes an Amazon Affiliate link may not have an Amazon Tracking ID if it was not added while creating content. In the site's Amazon Store code audit example below, one line says "no tag used on 3 product links".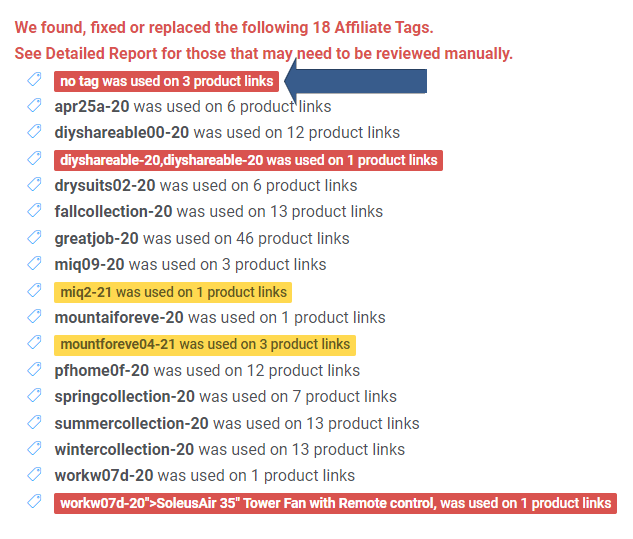 Amazon Affiliate Links missing the Amazon Tracking ID are a common problem. Usually, it occurs when content producers forget to add the store code to the affiliate link. Such missing store tags can be present on thousands of links on websites. 
For instance, here is an example of a site that had almost 3,000 links that were missing Amazon Store tags.

After running a Linkmoney App Fix Scan, this site in the example above picked up Amazon referral commissions significantly.  
4. Affiliate links with the incorrect region
If your site contains Amazon affiliate links outside of your licensed regions, you will not receive your referral commission.
This is a common issue with Amazon Affiliate links, as out-of-region links may be added accidentally.
If you use content publishers to create content and they handle the affiliate linking, mistakes can happen due to their global location.
They may unintentionally place product links from the wrong region on your site. Here are some examples of out-of-region Amazon Affiliate links found on US sites:
Affiliate Link from the UK

Affiliate Link from India

Affiliate Link from Canada 

To receive your Amazon commission, you'll need to have and qualify for an Amazon Associates account for each country you plan on marketing your affiliate content.
It's important to note that many US Amazon affiliate publishers typically only market to the US, however, this can result in the loss of potential Amazon referral commissions.
Does Linkmoney App fix Out of Region affiliate links?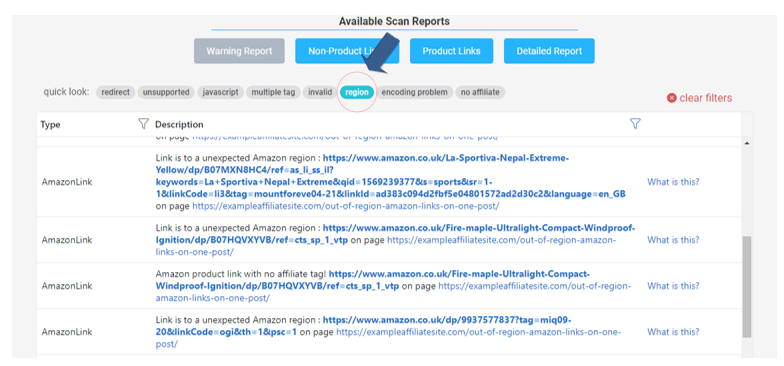 Linkmoney App will check, find, fix and report your out of region links fast.
Link errors are hard to find without the Linkmoney App. 
It's nearly impossible to check for errors one link at a time, as mentioned earlier in this article. 
Even checking just a few links would end up costing more in time than it's worth.
How do I fix my affiliate links with Linkmoney?
To fix your Amazon Affiliate links, Linkmoney performs a Baseline Scan once you have created an account. 
To learn more about the Baseline Scan, refer to the article called "Linkmoney App Baseline Scan". 
After the scan, the app will automatically fix any detected issues with your affiliate links.
Step-by-step guide to fixing your Amazon Affiliate links
Here are the steps to automatically fix your Amazon Affiliate Links. We created a complete "Step-By-Step Guide guide" here to get more information on how to setup and run Linkmoney App for the first time.
Step 1, Create a Linkmoney App account.
Step 2, Download the Linkmoney App Plugin
Step 3. Add your API Key to Activate Plugin
Step 4, Look at your Baseline Scan
Step 5, Finish setting up your License
Step 6, Start Your First Linkmoney App Fix Scan
Step 7, Run Linkmoney App again to get a clean report.

Are there any WordPress plugins that can help me fix my affiliate links?
Yes. Only Linkmoney App. As of the date of this article there are no other tools or plugins that automatically fix Amazon Affiliate links. 
There are 3 different ways to manually find and fix your affiliate link errors
Find a plugin that exports your links into a CVS or Excel spreadsheet. Some can filter the information and wrap it up in a downloadable file. Then click and view each individual link to see if there are any errors.
 Use Linkkmoney App to fix your site automatically. It will find all the affiliate link errors and issues, then automatically fix all the affiliate links on your site. Many sites take only a few minutes and Linkmoney App has a nice workable online audit report system that details everything about your affiliate links.
Go to each page, look for affiliate links and click them. Click the link, look at the URL path and see if you can spot any errors.

I have tried #1 and #3, trust me when I say this-Linkmoney is really the only way to check and fix your Amazon affiliate links.
Do I need to be an Amazon Associate link expert to find link errors?
To fix affiliate link problems, it's essential to have a clear understanding of Amazon links. While some issues may be visible, others can be hard to detect without specialist knowledge.
Manual checks may leave you with hundreds of errors.
It's important to note that just because you are able to click on an Amazon link and it leads you to your desired page, it doesn't mean there are no problems.
To ensure a single link is working correctly, use the Amazon Associates Link Checker tool to test them, or automatically check and fix all your affiliate links at the same time with Linkmoney.

Great news! Linkmoney App is designed to automatically catch and correct Amazon Affiliate link errors, making it even easier for you to use!
You don't have to be an expert to take advantage of all the amazing features and benefits that Linkmoney has to offer.
Trust in the App to handle the technical details for you, so you can focus on your affiliate site goals and achieve success.
Start using Linkmoney today and experience the peace of mind that comes with knowing you have a reliable and powerful tool on your side!
Do I lose Amazon Commissions if my affiliate links need to be fixed?
Yes. Fix your Amazon affiliate links to avoid missing out on commissions. Errors with your links can prevent you from earning affiliate revenue and cause a decline in site traffic. 
Amazon.com is a complex system that caters to billions of people globally. Although being an affiliate is simple, it's crucial to ensure that the links are error-free and comply with Amazon's requirements. 
Our testing indicates that more than 75% of WordPress sites have medium to severe affiliate link errors, including malformed links and missing Amazon Store codes. 
Don't miss out on potential sales and revenue by neglecting to fix your Amazon affiliate links.
A lot of Amazon Affiliate websites have broken links. Why is that?
Amazon Affiliate websites have a lot of affiliate links that need fixing due to the frequent plugin changes and constant addition and removal of links. 
The high volume of links we have, which is typical for affiliate sites to have over 100,000 links, means that errors are unavoidable.
How do the Amazon Affiliate link errors happen?
There are various reasons why links on websites can go awry, ranging from human error in hyperlinking to unpredictable plugin behavior, incorrect Amazon store codes, and human mistakes. 
These issues can crop up when employing people and using software for a large number of affiliate links.
Are there usually a lot of affiliate links that have problems?
A site with 100 posts can have up to or more than 9,000 links, which can cause potential affiliate link issues. 
For instance, one affiliate site had 146,015 total links, and out of those, 15,797 were Amazon affiliate links. This site had approximately 1,000 posts.

Within those 146,015 links, I had 5,002 Warnings and 81 Non-Product Report errors. 
To learn more about the Linkmoney App Dashboard and Reports, here are the links to each report:

There are two paths to fix your affiliate links
If you use Linkmoney App to automatically fix your affiliate links, you would be already done. This also means your Amazon Associates Commissions would increase too.
If you decide to take on fixing your affiliate links on your own, You will need to find and identify affiliate links errors then manually fix them.
When you find and identify an affiliate link error, delete the old link and paste in the correct good link(s). Then publish the page. It is a good idea to test the new affiliate link again in Amazon, to make sure there are no more errors.
Get acquainted with all the obvious and common, and the not-so-obvious and not-so-common Amazon.com errors to be sure the work you do fixing your affiliate links earns you a great return for your time.
Most Amazon Affiliate Publishers know they are losing money
Site owners often lose money on their Amazon Affiliate Commissions without knowing how to fix the issue. But now, there's a solution- Linkmoney App.
How many affiliate sites have errors and need to fix their affiliate links?
According to our scans of WordPress sites, over 91% had errors with their affiliate links that require fixing. 
I will periodically update this percentage as more site owners begin using Linkmoney App to address their site's affiliate links.
How did you determine the testing environment?
The Linkmoney App admin has a special scan mode we developed to run on any WordPress website. We can drop in a sitemap, scan any site and generate all the reports. 
To automatically fix sites the Linkmoney plugin will need to be installed, which requires an account. 
I go to SEMRush and look for WordPress Amazon affiliate sites and run them in batches. 
As of today, the sites scanned are over 1,400. As Linkmoney App app customers run their Fix Scans, I will update this article (the day of this article is May 11, 2023).
What kind of affiliate link errors are there?
Some of these link errors we look for are from that article are:
Wrong or Missing Amazon Affiliate Store Tag– This is a very popular problem. Easily the biggest issue, but incredibly hard to fix manually.
Malformed links– These are links that have some kind of format issue that cause errors. A site owner can look at their affiliate links and never know if the link earns them revenue or not. Often times a malformed link is formed from someone fixing a Wrong Amazon Affiliate Store Tag.
Broken links- these are Amazon Affiliate links where the link destination gets a 404 error.
Links with missing ASIN and product numbers– these are Non-Product links like "Amazon Searches". See this article called "Linkmoney App Non-Product Link Report" for more details on non-product links. These may also be affiliate links you may think are going to Amazon.com, but aren't.
Links that go to your WordPress login. This is more common than you may think.
Links that go to the wrong Amazon Store Region. If you only have an Amazon.com (United States) account and one of your links goes to Amazon in another country, you will not receive your Amazon Commissions if you do not have an Amazon Associates account with that country.  This can happen quite a lot if you have overseas content writers and VA's.
Many, many more. All of your affiliate link errors can be seen in your Linkmoney App Dashboard and Reports.
Fixing Amazon Affiliate links manually is difficult due to the large amount of links on our website. 
However, using Linkmoney App can quickly and easily find and replace broken affiliate links, resulting in increased earnings. 
Try Linkmoney App to start earning more money from your Amazon Affiliate links today.