Have you been using AMZN.TO links on your affiliate site and are looking for a way to convert those links into standard Amazon Affiliate links? Look no further, Linkmoney App has the solution. How to automatically convert your AMZN.TO links into standard Amazon Affiliate product links using Linkmoney App
We have made it quite easy. You will need to have purchased the Linkmoney App Pro Plan because, with this plan, Linkmoney App can automatically do this for you. It is not uncommon for an Amazon Affiliate site to have thousands of Amazon Affiliate links.
After you have run Linkmoney App, go to your Dashboard. From there, you can see how many AMZN.TO links Linkmoney App has detected. If you have AMZN.TO links, you will see them here.
Example of detected AMZN.TO links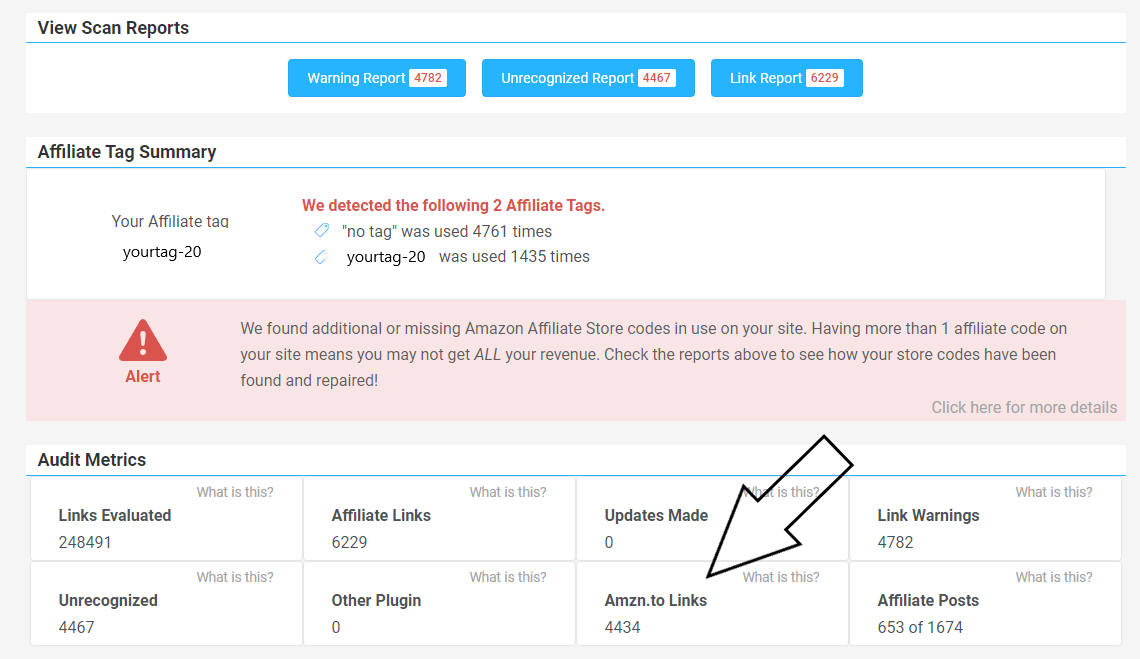 Can you view all of your AMZN.TO links prior to converting them?
Yes, if you would like to view all of your AMZN.TO links prior to converting them, just go to the Product Link Report. Then click the "shorltink" filter.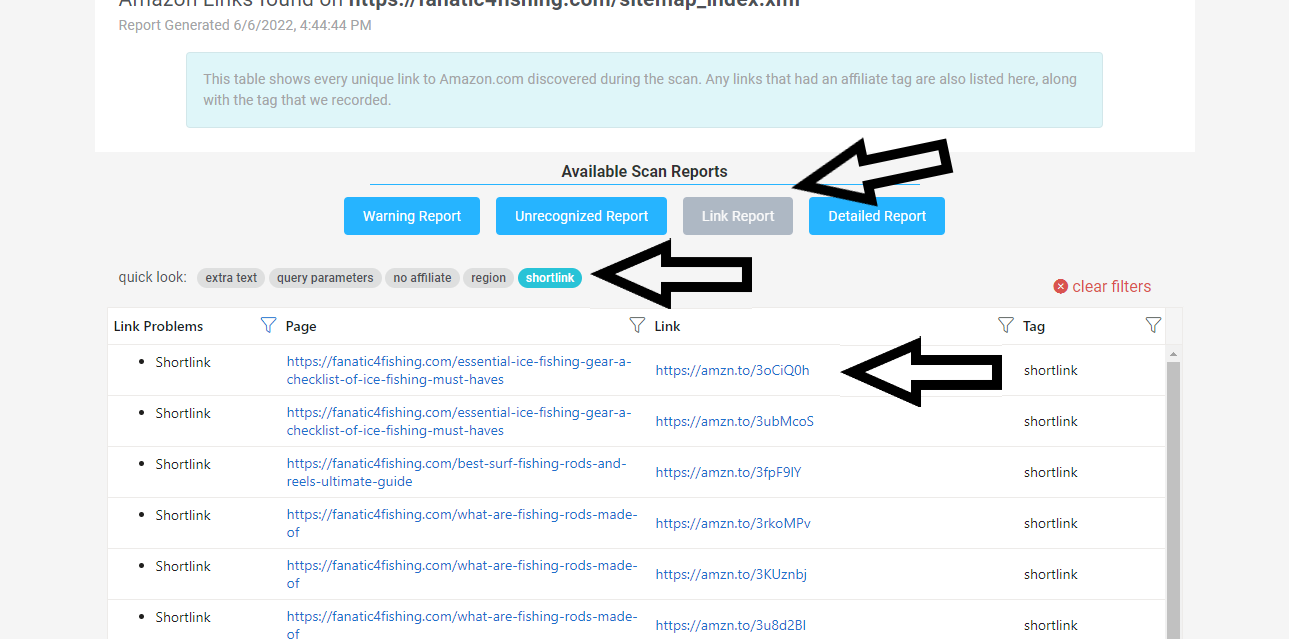 Convert your AMZN.TO links to standard Amazon Affiliate product links
Converting your AMZN.TO links into standard Amazon Affiliate product links is done from your Subscription Licenses. To know more about your Licenses, please read this article called "Linkmoney App Plan Licenses And API Key (Full Guide)" here.
Log into Linkmoney App, and click your email in the upper right corner of the screen. Click "Licenses" from the dropdown box.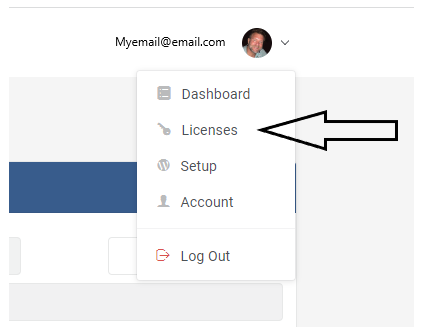 2. You will be taken to your Licenses, Click the "Expand Shortlinks" box.

3. Click Run Scan.

Note: Make sure you have both the correct Amazon Affiliate Tag and any reserved tags entered as when you run Linkmoney App, it will find, fix and replace your Amazon Affiliate Product links with what you have entered.
No worries if you have the wrong store tags, you can always come back and enter the correct store tags and run Linkmoney App again.
Scan again to see the changes and what to do.
Why convert AMZN.TO links back to original Amazon Affiliate links?
The two main reasons to convert your existing AMZN.TO links back into standard Amazon Affiliate links are:
AMZN.TO are not needed as much as they once were. Almost all of the Amazon Affiliate websites today have their Amazon Affiliate product links behind alt-texted links, buttons, showcase boxes, and tables.
The other reason, which I find the most important, is that when the Amazon Affiliate product links are shortened, it makes it difficult to know if the link has any errors or is no longer working. This is because any kind of Amazon Affiliate link checker, other than Linkmoney App, will greenlight the affiliate link as OK, because the short link will click. However, the actual Amazon Affiliate product link may not be OK.
Example of how Amazon Affiliate Product links are used today
Years ago, publishers were using their raw Amazon Affiliate product links directly in the content they wrote and original Amazon Affialtie product links looked awful compared to the AMZN.TO shortened links.
Example of how AMZN.TO links were used before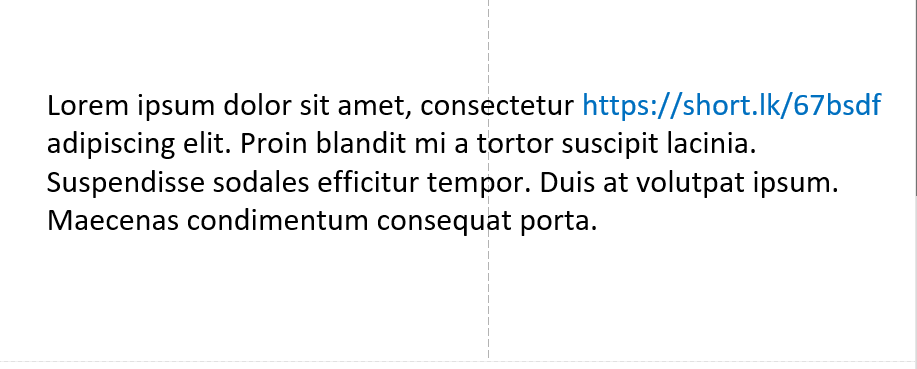 Will I lose Amazon analytics if I convert AMZN.TO links into standard Amazon Affiliate product links?
No. Amazon Associate reports will have the same data for both the AMZN.TO links as the standard Amazon Affiliate product links.
What are AMZN.TO links?
AMZN.TO links are links that have been shortened from their original links. The AMZN.To short link generator, is hosted by Bitly (Bit.ly) and is AMZN.TO  links look very similar. Below is an example of a shortened Amazon Affiliate link using the AMZN.TO link shortener:

As you can see, the original Amazon Affiliate link is long and not very pretty. When the Amazon Affiliate link is shortened into an AMZN.TO link, it looks much cleaner.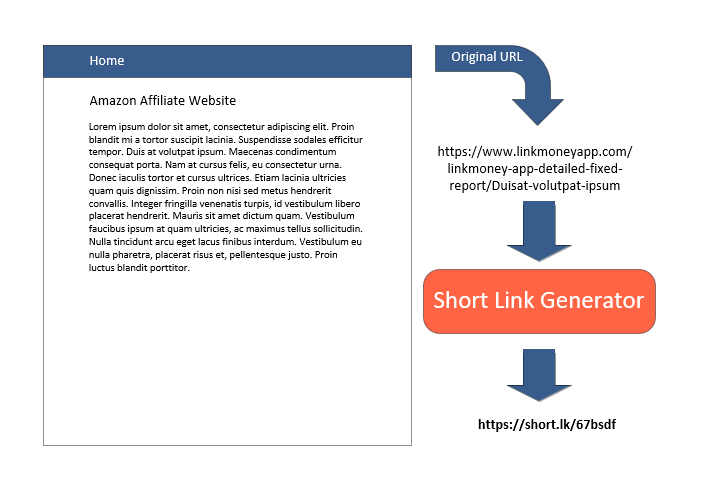 What will my Amazon Links look like after Linkmoney App converts them?
Linkmoney App converts your AMZN.TO short links into standard Amazon Affiliate product links.
Example of a converted AMZN.TO shortlink converted to a standard Amazon Affiliate product link

How will I know what AMZN.TO links were converted by Linkmoney App?
You can see all the short links that Linkmoney App converted in the Linkmoney App Detailed Report.
Go to your Linkmoney App Dashboard
Choose a report
Click Detailed Report
Then use the "shortlink" filter.

Related Articles:
Linkmoney App Dashboard (Everything explained)
Linkmoney App Detailed Fixed Report (All Filters Explained)
Linkmoney App Product Link Report (All Filters Explained)
What Short Links and Shortcode Does Linkmoney App Support