Many online companies and entrepreneurs have found success in buying and selling Amazon affiliate websites, as it can be a lucrative venture.
If you buy or sell a website today, chances are 15- 25% of the Amazon affiliate links on that site are either broken, malformed or have missing or incorrect Amazon store codes.
The intention of this article is to make Amazon affiliate site buyers and sellers aware that using Linkmoney on their sites will increase revenue and add value to their affiliate sites, fast.
Amazon Affiliate Website Buyers
If you are an Amazon affiliate site buyer, there are two common affiliate link issues that will need to be resolved once an affiliate site has been purchased:
1. Changing the Amazon Store tracking ID from the seller to your (the buyer) Amazon tracking ID in order to receive the Amazon commissions the site earns while it is in inventory.
2. Once the site is sold to a new buyer, the Amazon tracking ID will need to be changed to the buyer's tracking ID.
I also put together this article called "Top 20 Amazon Affiliate Link Mistakes" which goes into more detail about the common Amazon affiliate link mistakes and how to correct them. 
If the buyer uses a Search and Replace plugin to do this, chances are they are missing 15-25% of Amazon Affiliate link issues. Read this article called "Linkmoney VS Search and Replace plugins" to understand the difference between a Search and Replace plugin and Linkmoney.
Attention Buyers- there is no longer a need to Manually Fix Affiliate links
Prior to Linkmoney, manually fixing all the affiliate link issues was a huge task and most likely took a specialized team which is a cost to the buyer.
Oftentimes manually fixing affiliate links can introduce new unexpected affiliate link issues- and no one knows. The QA to check that all the links were fixed correctly is nearly impossible for Amazon affiliate site buyers- especially if the Buyer has an inventory of affiliate sites.
Sure, there are companies that will print out specific link issues "you specifically asked for" into a spreadsheet, but none that automatically check and fix everything at the push of a button. Linkmoney A.I. is the answer.
Want Linkmoney A.I. to Check and Fix your Amazon Affiliate link problems?
Linkmoney developed its own A.I.
Linkmoney A.I. comes with a set of instructions to search an entire site for every common and uncommon affiliate link issue. Then automatically fixes the link errors. 
Here is an article that has all the Amazon affiliate common and not-so-common link issues Linkmoney A.I.  currently checks and fixes called "Linkmoney App Reports Link Errors (all detectable link errors explained).
Linkmoney A.I. doesn't make mistakes, it doesn't get tired, and it is fast.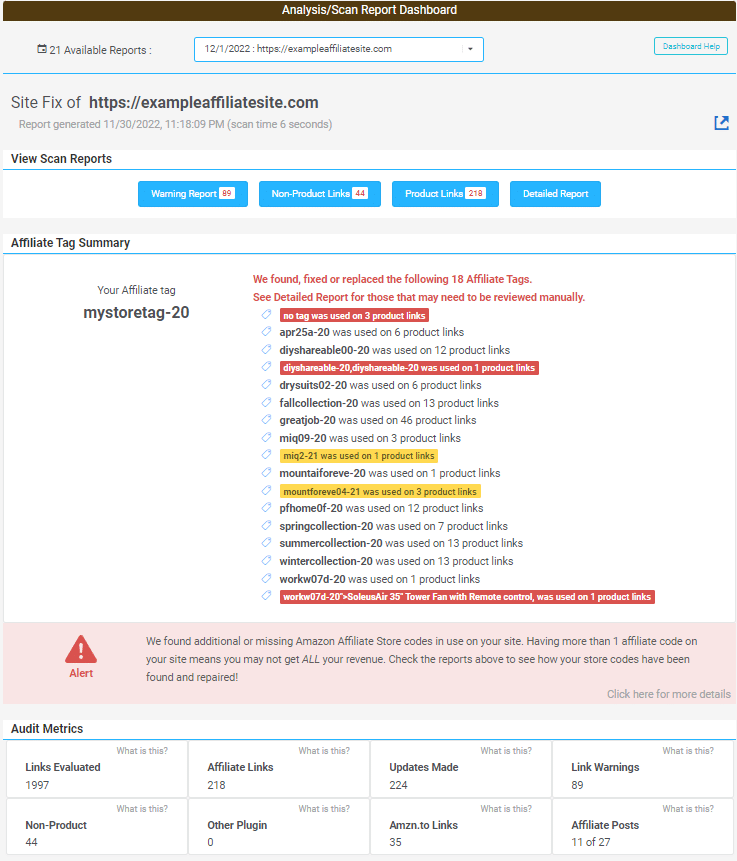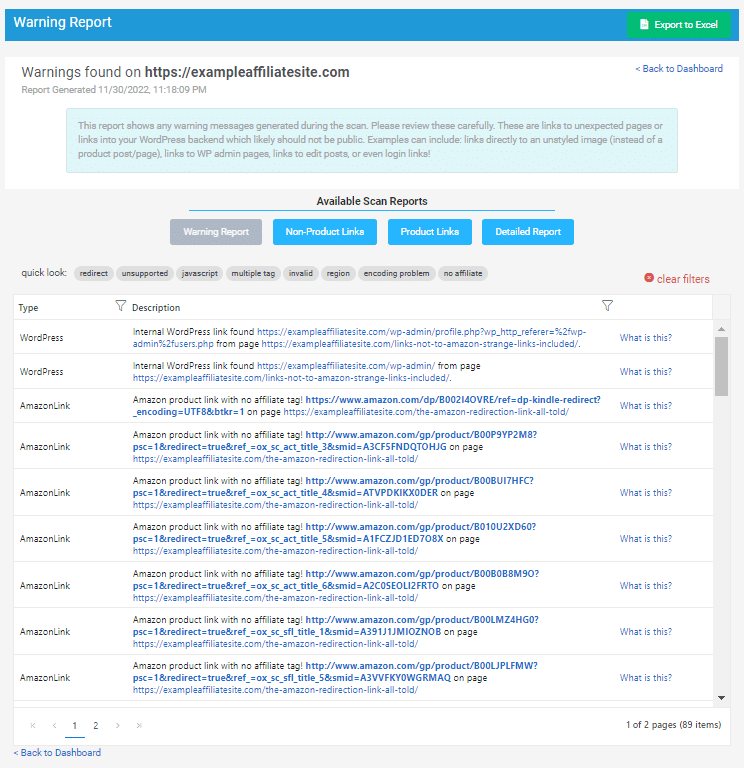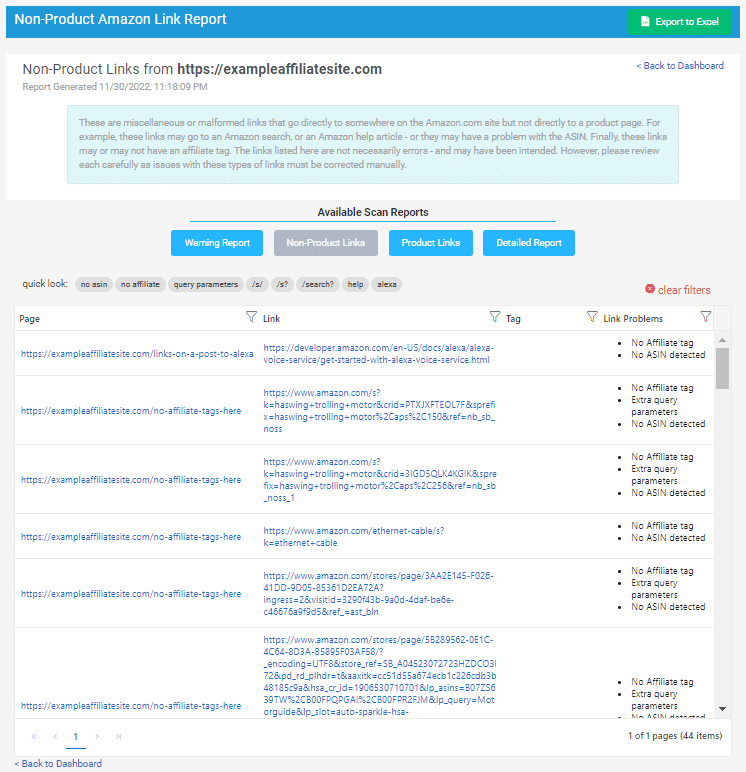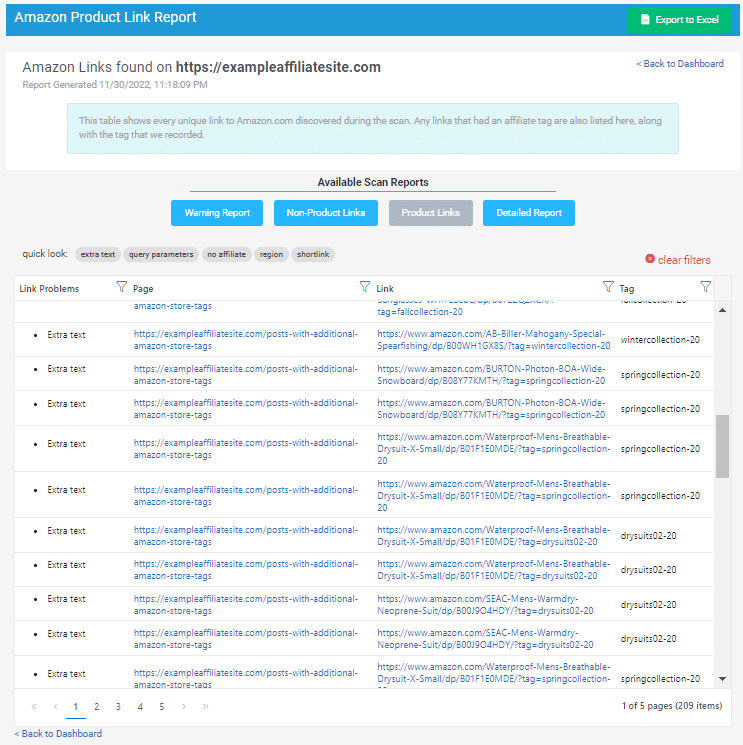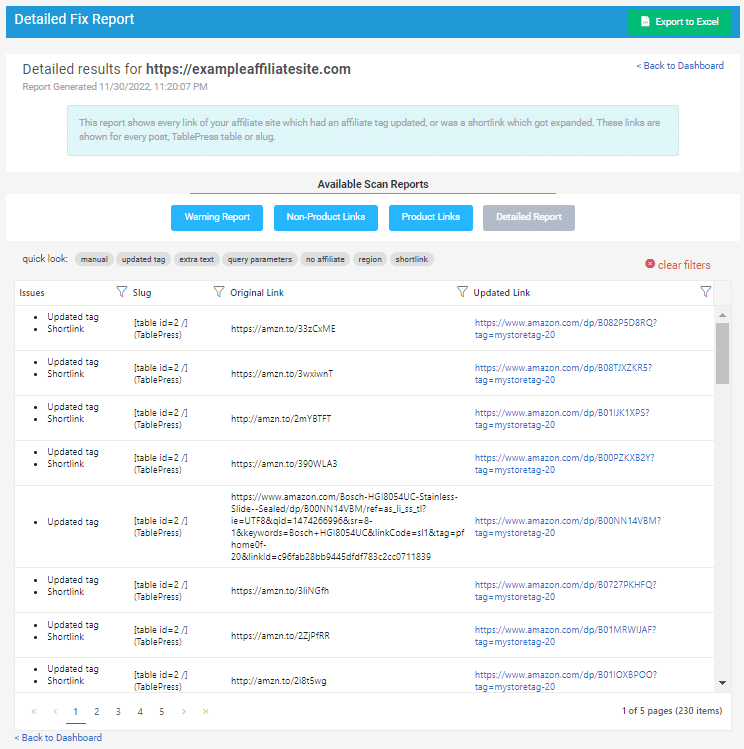 The audit also includes full easy to understand reports that show the affiliate links Linkmoney checked and fixed.
The Detailed Fix Report shows every affiliate link Linkmoney fixed. This is also great for understanding how the affiliate link issues happened. If you know how affiliate link issues are getting on the site, you can stop them from happening.
Linkmoney A.I. converts, checks, expands, and fixes Amazon Short Links (AMZN.to)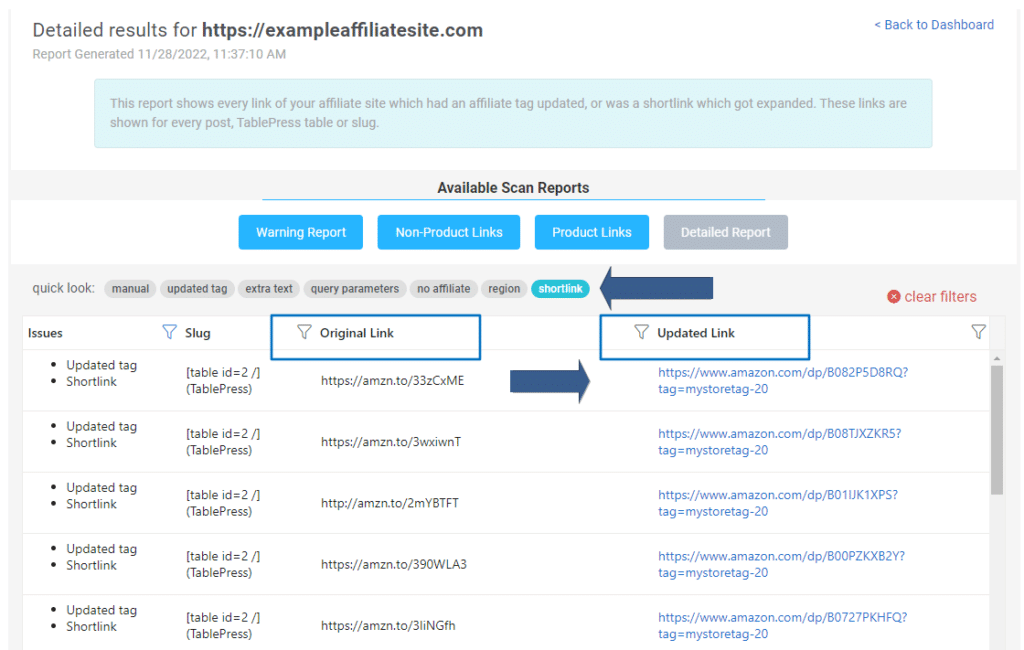 If you choose, Linkmoney will expand, convert, check, and fix all Amazon short links on all your sites.
Here is an article I wrote called "Amazon Short Link Checker" that explains how Linkmoney checks and fixes Amazon Short Codes.
To choose Fix Scan Options, just go to the License Control Panel and make your selections.

To choose Fix Scan Options, just go to the License Control Panel and make your selections.
The Linkmoney Fix Scan Options are:
1. Expand Short Links– Expands Amazon Short Links so they can be checked, and fixes any issues found.
2. Cleanup Links– Cleans up overly long Amazon affiliate links with extra query parameters and turns them into perfect standard Amazon affiliate links.
3. TablePress– Checks and fixes Amazon affiliate links in the TablePress shortcode.
What do we mean by "Affiliate Link Issues"?
We call an affiliate link issue anything that prevents an affiliate site from earning Amazon referral commissions.
Linkmoney is compatible with TablePress
TablePress might be the most popular WordPress plugin and millions of websites use it.
Linkmoney is compatible with the TablePress plugin and its shortcode.
As an example, if you have a site that has tables on pages such as "The Top 10 Something", and there are Amazon affiliate links and or Amazon Short Codes in the table, Linkmoney will check and automatically fix all the affiliate links in the table.
Linkmoney adds more value to a Buyer's Amazon Affiliate site inventory fast
If a buyer purchases an affiliate site, then runs Linkmoney, the site is now more valuable in at least three ways:
1. Linkmoney will check and fix all the Amazon affiliate link issues on the site. If all the Amazon Affiliate links are healthy, the site now earns more Amazon commissions from the existing traffic. More revenue the more site value.
2.Linkmoney nearly removes all the time and cost of a team manually fixing affiliate link issues. Linkmoney pays for itself.
3. An affiliate site with 100% healthy links to Amazon provides the site's customers with a much better experience. A better site experience can increase a longer "Average Time On Page" and lower the site's Bounce Rate. The average time on the page can be seen in the site's Google Analytics in "Page Views".
Ever wish you could push a button and all your problems go away? Now you can.
Buyers can easily check and fix ALL the Amazon Affiliate Sites in their Inventory fast
If you are a buyer, chances are you have Amazon affiliate sites that are sitting in inventory ready to be sold.
Running Linkmoney on all your sites in inventory can add instant value and earn more Amazon commissions while they are waiting to be sold.
If all the Amazon links are healthy and making you revenue, the more Amazon commissions you earn from the site's existing traffic.
Linkmoney will pay for itself.
Amazon Affiliate Website Sellers
If you are looking to sell your Amazon affiliate site, fixing all your affiliate links prior to a buyer evaluating the site will add revenue to the site.
Similar to the points made for an Amazon affiliate site Buyer also applies to the Seller:
1. Checking and fixing your Amazon affiliate links adds more revenue to the site from its existing traffic. If your affiliate links are broken or have Amazon affiliate tracking ID problems, you will not earn your Amazon referral commissions.
2. Clean healthy Amazon affiliate links give your customers a better experience and can increase your Average Time On Page" and lower "Bounce Rate".
If all your Amazon affiliate links are healthy and making you revenue, you will earn more Amazon commissions from your existing traffic.
More revenue the site makes gives it a better valuation. And you get a bonus, the site will earn more revenue while you are looking for a buyer.
Are ALL your Amazon Affiliate links making you money from your traffic?
How can Linkmoney App add value to Amazon Affiliate sites?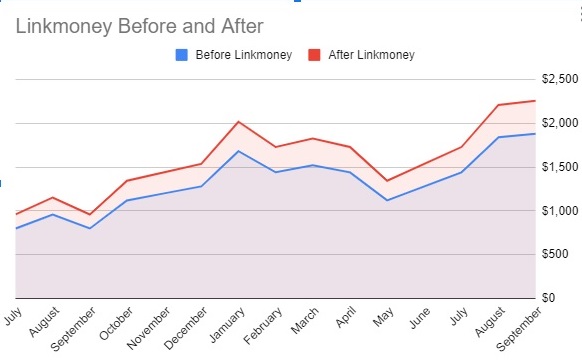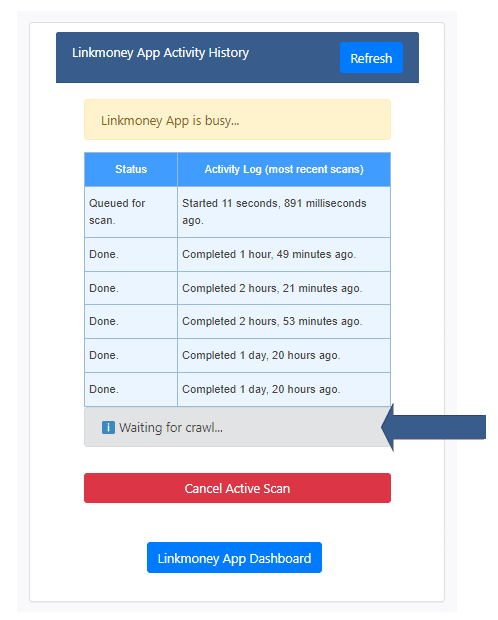 1. Scan the entire site looking for all links.
2. Separate Amazon affiliate links from internal and external links.
3. Check all Amazon links for errors, incorrect and or missing Amazon tracking IDs, broken links, malformed links etc.
4. Create a Link Audit and full set up Reports.
Linkmoney looks at every single link on an affiliate site and fixes everything
Whether you are either Buying or Selling an Amazon affiliate website, if all the Amazon affiliate links are healthy:
1. The site is making more revenue.
2. Customers are happier and feel the site is more trustworthy.
3. The site gains more Average Time On Page and less Bounce (Google Analytics>Page Views).
Linkmoney checks and fixes Amazon affiliate sites of all sizes and types
All Amazon affiliate websites have Amazon affiliate links that customers click to earn Amazon referral commissions.
The average Amazon affiliate site has hundreds, if not thousands, of Amazon affiliate links. Here are some examples of sites and the number of affiliate links on their websites. This data comes from actual Linkmoney App affiliate link audits.
| Affiliate Site Product Category | Number of Affiliate links on site | Number of Affiliate Posts |
| --- | --- | --- |
| Cultery | 579 | 201 |
| 3d Printing | 2063 | 262 |
| Tankless Water Heaters | 1758 | 70 |
| Learning | 276 | 178 |
| Bicycle Reviews | 2058 | 280 |
| Water Flosser | 1775 | 55 |
| Learn About Outdoor Camping | 1002 | 756 |
| Home Security | 1648 | 188 |
| Outdoor Gear | 4684 | 674 |
| Headphones | 5880 | 279 |
| Chainsaws | 20,573 | 3640 |
The average Amazon Affiliate site has the following common affiliate link errors:
1. Incorrect Amazon Store Tracking IDs
2. Missing Amazon Store Tracking IDs
3. Links with encoding errors, malformed links, and JavaScript errors.
4. Images with broken Amazon store links.
5. Security issues like Amazon links that link to the site's WordPress login or a User login. We see this all the time.
Linkmoney checks and fixes them all.
Why Buy an Amazon Affiliate Website?
Buying an Amazon affiliate website from an online affiliate website seller can be a great way to get a head start in the world of affiliate marketing.
By buying a pre-built website, you can avoid the time, effort, and cost associated with building a website from scratch.
A website seller can provide you with a website that is already optimized for Amazon affiliate marketing, meaning you can start making money right away.
Additionally, an experienced website seller can provide you with ongoing advice and support as you grow your business.
Why Sell an Amazon affiliate website to an online affiliate website Buyer?
An Amazon affiliate website is an attractive purchase for an online affiliate website buyer because it offers a ready-made platform with a proven track record of success.
Such a website typically has a high domain authority, a large and engaged audience, and a steady flow of revenue from Amazon affiliate commissions.
Additionally, such a website often comes with a portfolio of optimized content and an established content promotion strategy that can help drive even more revenue.
Ultimately, an Amazon affiliate website offers a buyer a great opportunity to quickly jumpstart their online affiliate business.
All Amazon affiliate sites should be using Linkmoney. But Amazon affiliate site Buyers and Sellers can gain significant value by doing so.
Buyers can both immediately increase the value of the site they just purchase and add value by fixing and checking their affiliate site inventory.
Sellers can gain value by both fixing and checking their site's affiliate links and improving customer confidence in the site- adding more customer interactions with the content.
For the record, it would take less time to check and fix your Amazon affiliate links, than it did to read this article.
If you have any questions, please feel free to contact me and I will answer any questions you may have. Need a demo? Contact me and let's do it.