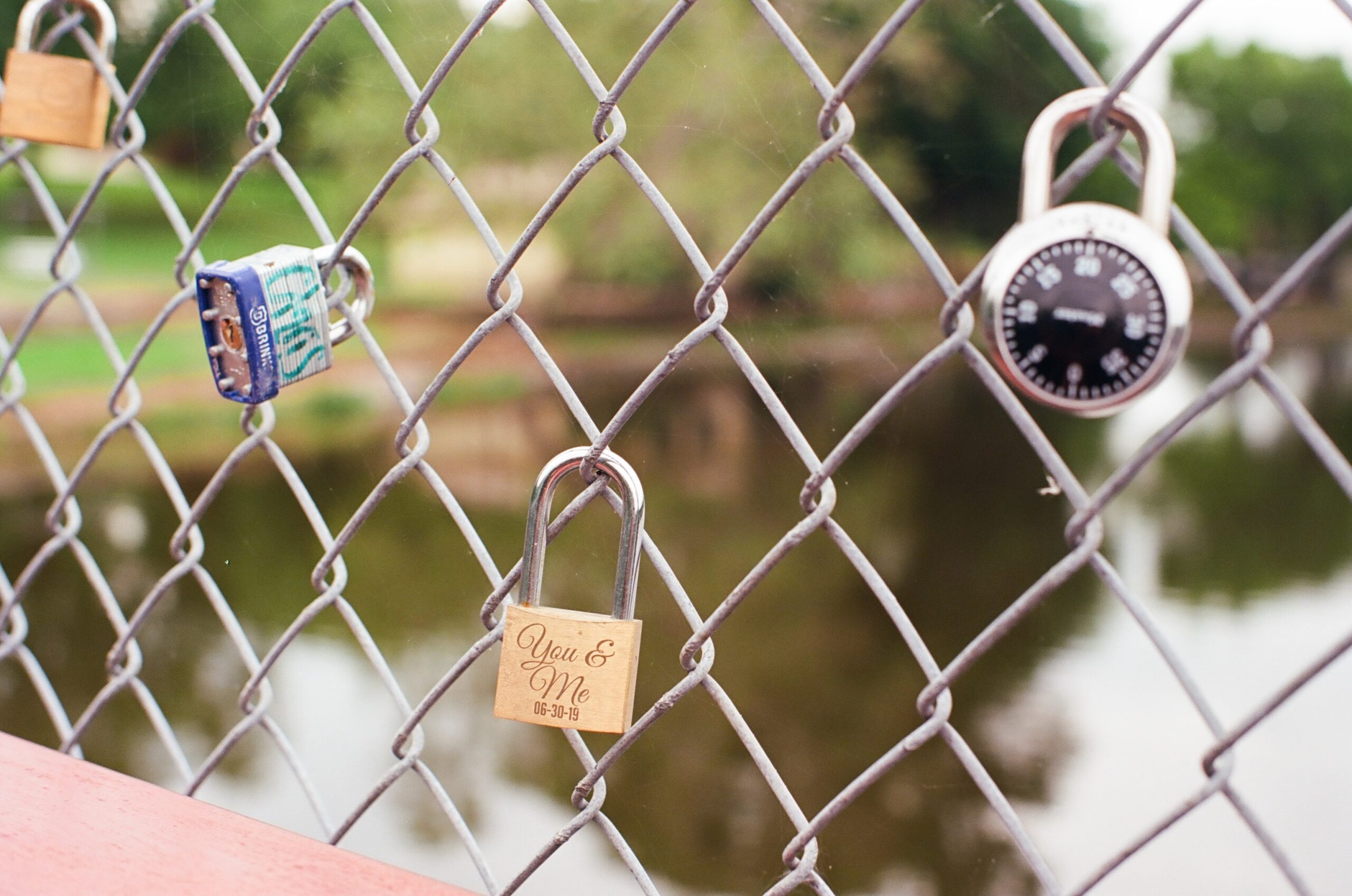 Why do I have more than one Amazon Associates Store ID on my affiliate website?
There was a mistake when the Amazon Store Code was added to your affiliate link.
You have added additional Amazon Store Codes from your Amazon Associates Account.
Someone has added their own Amazon Store Code to your affiliate site.
You purchased an Amazon Affiliate website and there are still old store codes on the website from the previous owner.
Unless you have looked for it, you may not know if you have more than one Amazon Associates Store ID on your Niche website.
You should know for sure that all of the Amazon Store Codes on your affiliate site are yours, otherwise, you are either losing money, or someone else is making money from your website traffic.
Either way, this needs to get fixed to make the most revenue from your Amazon Affiliate website's traffic.
How do I know what Amazon Store Codes are on my Amazon Affiliate site?
With LinkMoney App you can find out if either all your Amazon Affiliate links have your correct store code, are missing a store code altogether, or have someone else's store code on your affiliate site.
If the store code on your affiliate website is not yours, missing, or is someone else's, then you are not going to receive your Amazon Associates commission. In the latter, if someone else's Amazon store code is on any link on your affiliate site, they will get the Amazon Associates commission for that link, not you.
How do I find and fix all the Amazon Store Codes on my Amazon Affiliate website with Linkmoney App?
Create a Linkmoney App account.
In your license account, add your correct store code .
Run Linkmoney App
Go to your Linkmoney App dashboard and look at your Affiliate lInk audit.
Create a Linkmoney App account
Here is a guide on how to create a Linkmoney App account called "Linkmoney App Getting Started Guide". this guide will walk you through the steps to set up and run Linkmoney App.
Step 1, Add your correct Amazon Associates Store Tag(s) to Linkmoney App
Go to your account in the upper right corner of the screen, click your email, then choose "Licenses".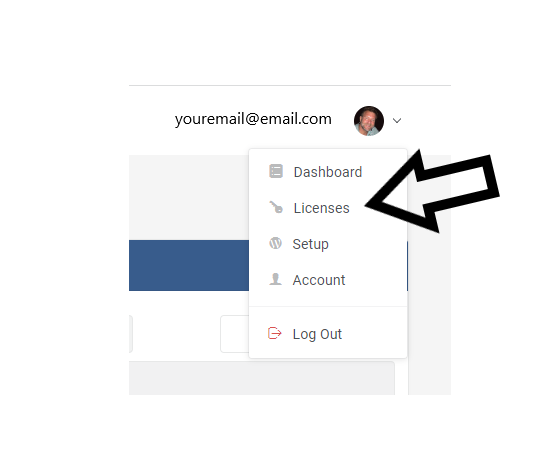 Step 2, Add the Amazon Associates Store Tag you would like all of your Amazon Affiliate links to have.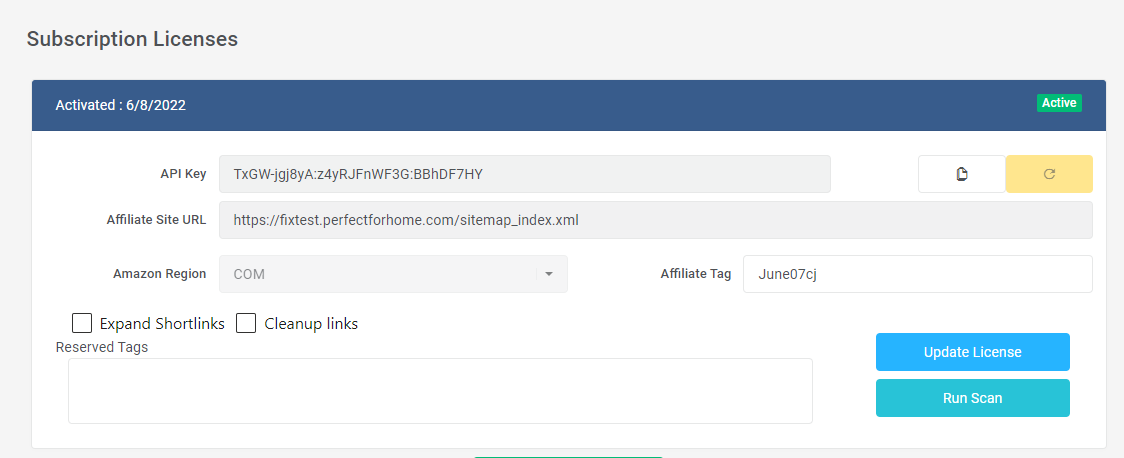 If you have created additional Amazon Associates Store Tags, you can add them in the "Reserved Tags" section.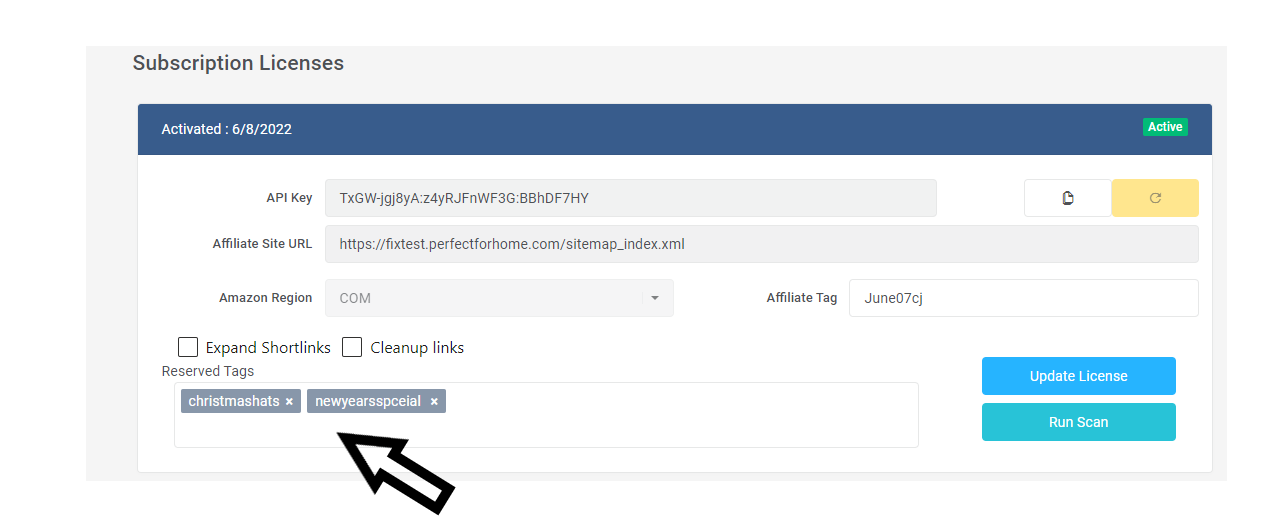 Step 3, Run Linkmoney App
Click the "Run Scan" button to begin.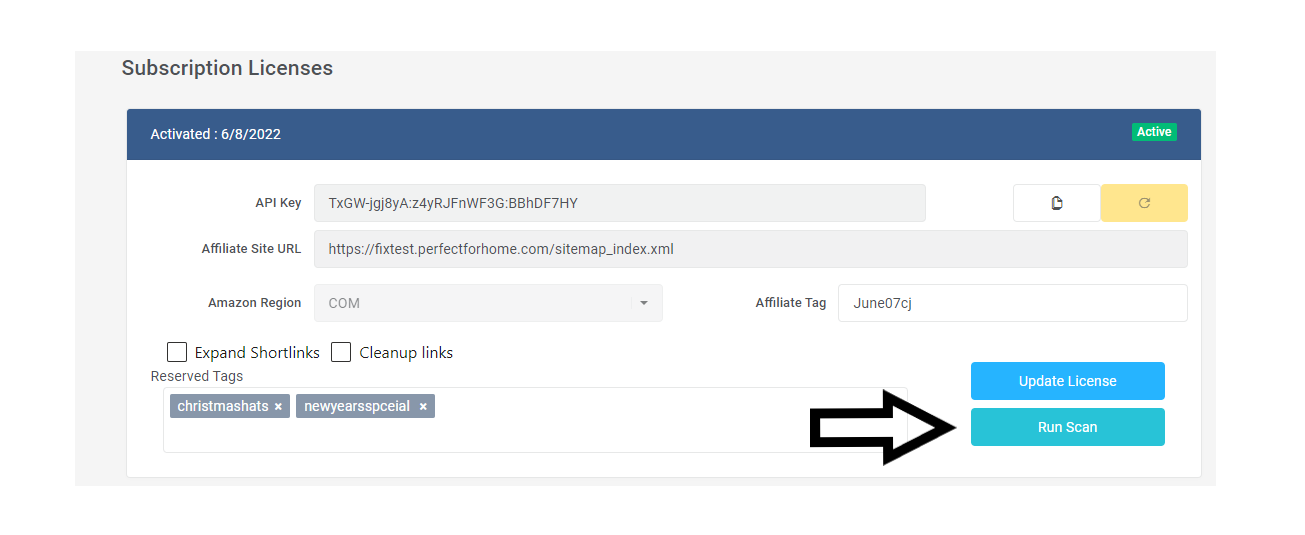 Step 4, view your Linkmoney App Dashboard for your Amazon Affiliate Store Tag Audit.
Go to your Linkmoney App Dashboard and view the Affiliate Tag summary, you can view all the different store tags in use on your affiliate website. You can read more about the Linkmoney App Dashboard in the article called "Linkmoney App Dashboard" here. We explain all the different areas Linkmoney App audits your Amazon Affiliate links.

LinkMoney finds, fixes, and reports all your problems and issues with your Amazon Affiliate links on your Amazon Affiliate Marketing website.
If you have looked, wondered, or even suspected if you have multiple Amazon Store ID's, you probably have thought about how to fix this major revenue issue.
Maybe while working on the site you have found you have more than one, or even Amazon affiliate links missing Amazon store codes, you may want to know why.
You are in the right place, Linkmoney can find all the Amazon Associate Store ID's, missing or someone else's, on your site and correct them fast. LinkMoney does a lot more too.
First, let's define what an Amazon store code is.
What is an Amazon Associates Store ID?
An Amazon Associate Store ID (store ID) is a unique identifier that you can use in your Amazon Associates account to link your product listings with your own website. You can then earn commissions on any products sold there.
An Amazon Associates store ID is also called an Amazon Associates Tracking ID and The Preferred Associates Store ID. All US Amazon Associates Store ID's will end in "-20" if you are a member of the Amazon's US Affiliate Associate Program.

How do I find my Amazon Associates Store ID?
The Associate ID can be found in your dashboard after you have signed up for the program. You will find your Amazon Associate ID listed under the "My Account" section on the top right hand side of the page.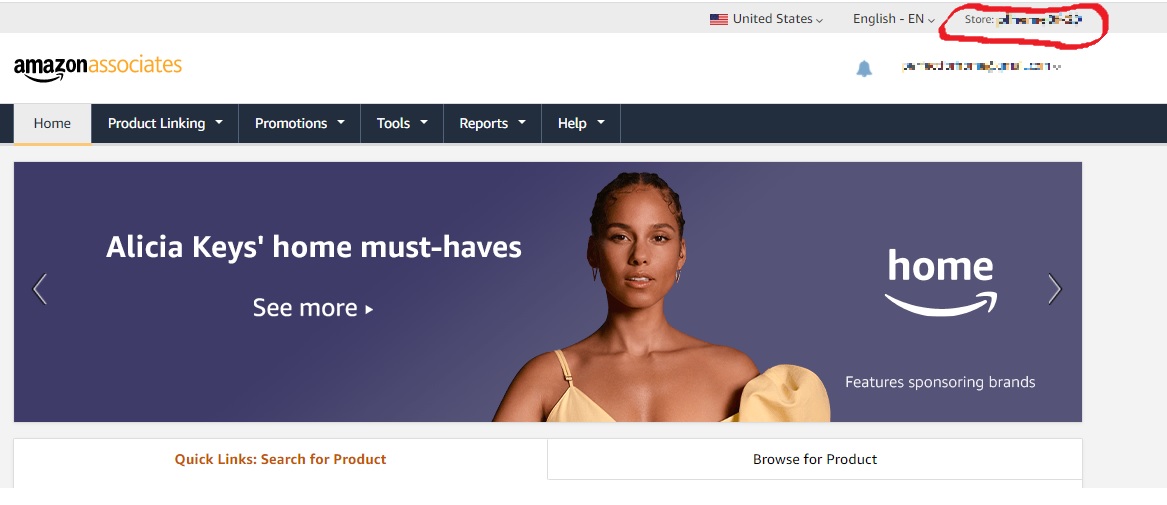 Where can I find a list of my Amazon Associate IDs?
If you have more than one Amazon Associate Store ID's or just want to see if you have more than one go to Amazon Associates, click your account email in the upper right corner, and from the dropdown box click Manage Your tracking ID's. You can see all your ID's from that page.
Step 1
Go to Amazon Associates and log in. From there look to the upper right-hand corner of the page.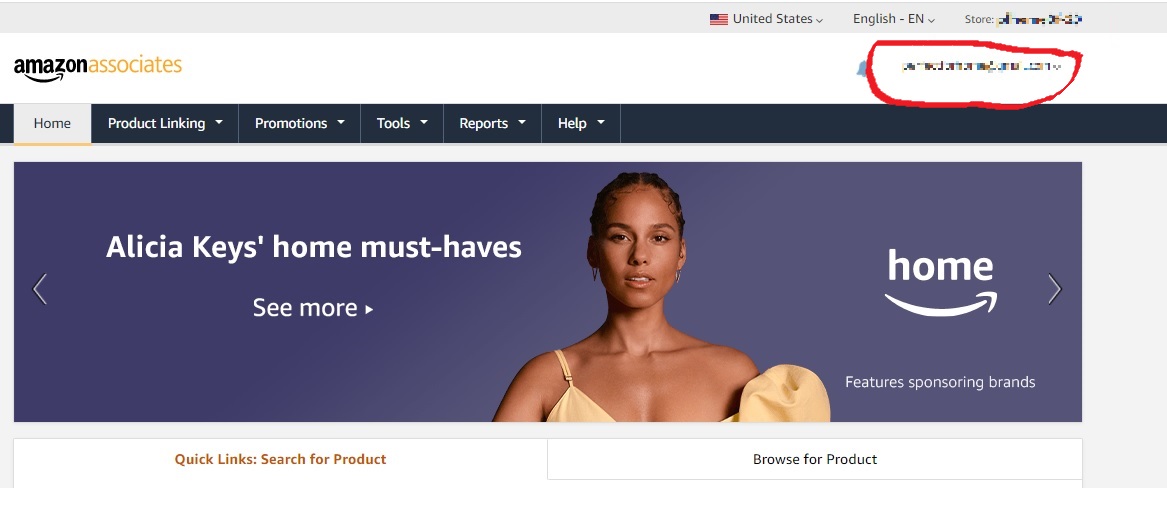 Step 2
Click where you see your Amazon Associate email. Then look for the drop-down and click Manage Your Tracking IDs.

Step 3
Once you are on this page, all of your Amazon Store Codes will be present.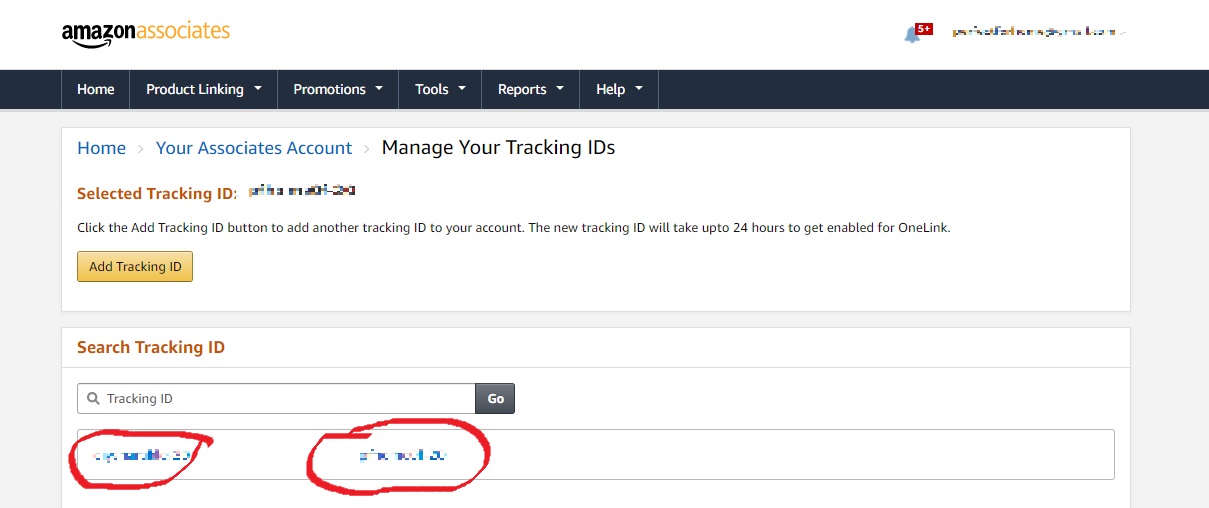 How is the Amazon Associate ID's used on my Niche website?
You can use Amazon as an affiliate program to earn commission on each sale. This means that if someone buys a product from Amazon using one of your links, you get paid a percentage of the sale price.
The Amazon Associate ID is placed in the link you get from products on Amazon. It looks something like this when used correctly:


How do you get paid for referring people to Amazon?
Affiliate Marketers or Niche Amazon Affiliate Website Publishers earn commissions when a visitor on their site clicks a link to an affiliate product and purchases it. The visitor must make a purchase within 24 hours or add the product to their shopping cart and purchase it within a specified time period. Commissions are typically 1% to 10% of the purchase price depending on why someone purchases.
| Amazon Associates Program Standard Commission Rates | |
| --- | --- |
| All Other Categories | 4.00% |
| Amazon Fire Tablet Devices, Amazon Kindle Devices, Amazon Fashion Women's, Men's & Kids Private Label, Luxury Stores Fashion, Apparel, Amazon Cloud Cam Devices, Fire TV Edition Smart TVs, Amazon Fire TV Devices, Amazon Echo Devices, Ring Devices, Watches, Jewelry, Luggage, Shoes, and Handbags & Accessories   | 4.00% |
| Amazon Fresh, Physical Video Games & Video Game Consoles, Grocery, Health & Personal Care  | 1.00% |
| Digital Music, Physical Music, Handmade, Digital Videos | 5.00% |
| Gift Cards; Wireless Service Plans; Alcoholic Beverages; Digital Kindle Products purchased as a subscription; Food prepared and delivered from a restaurant; Amazon Appstore, Prime Now, or Amazon Pay Places | 0.00% |
| Luxury Beauty, Luxury Stores Beauty | 10.00% |
| PC, PC Components, DVD & Blu-Ray       | 2.50% |
| PC, PC Components, DVD & Blu-Ray  | 2.50% |
| Physical Books, Kitchen, Automotive     | 4.50% |
| Televisions, Digital Video Games   | 2.00% |
| Toys, Furniture, Home, Home Improvement, Lawn & Garden, Pets Products, Headphones, Beauty, Musical Instruments, Business & Industrial Supplies, Outdoors, Tools, Sports, Baby Products, Amazon Coins    |  3.00% |
Why did I have more than one Amazon Store code on my Niche Site?
This could be for more than one reason, but I will explain how this happened to us. We purchased our Niche sites already up and running and earning Amazon commissions which meant we needed to create a new Amazon account for each site.
During that time, Amazon released a new API and required us to create a new store ID. As we started using the new store ID, we realized we still had the old store ID on all of our Amazon Affiliate links. As we began using the new store code, this created more than one store code on the site.
We also found Amazon store codes that didn't belong to us and we found out we were losing money.
Later, human error from our writers and publishers caused even more errors. If you create a lot of content, chances are you have errors too.
What Is The Preferred Associates Store ID?
If you have come across something that is asking for The Preferred Associates ID, this is the same thing as your Amazon Associates Store ID, or Tracking Code. Or if you have called the Amazon Store Tag, The Preferred Associates ID, you are right if you created your store tracking code.
Oftentimes, people will choose or prefer to choose a name, like their business name as an example, as part of their Amazon Associate Store ID. Because of this, your chosen, or Preferred Associates ID, is used to describe your Amazon Associates ID.
You can literally choose any name for your Preferred Associates ID you like, as long as it doesn't violate any of Amazon Associates' Terms and Conditions. You can read the "Associates Program Operating Agreement" here.
The bottom line is if you call your Amazon Tracking Code an Amazon Store Tag or a Preferred Associates ID, Linkmoney App can find, fix and replace them with the correct store tag so you earn the most revenue from your affiliate site traffic.
What are the different Amazon Affiliate Store Code Issues LinkMoney finds?
1. You purchased your affiliate site from someone and all the links did not get changed out.
2. Somehow, you used the wrong store ID, or you gave the wrong or incorrect store code to a writer or editor to use. It happens and it is hard to know for sure.
3. You saved your store code so you can use it quickly, but it was mistyped or not fully copied.
4. You have writers who used or mistyped the code.
5. Someone has placed their store codes on your Niche site for them to earn the commission. This happens more often than you might think. It is easy to do and most likely no one will ever know.
Finding out if your Amazon Affiliate Marketing website can be a huge and expensive task if you are not using LinkMoney. I wrote an article called "What is Linkmoney" and described the process, the hours it takes, and how much money you save with LinkMoney.
I realize these are just some of the reasons how this can happen. If you have some other examples, please share and I can add them to this article for the community. The good news is Linkmoney can fix it and Amazon will like you for doing it.
LinkMoney is your friend if you own an Amazon Affiliate website. Check out all the LinkMoney features here. It is easy to use and will fill find, fix, and report on all issues you have with your Amazon Affiliate links.
Until now, no one really knows the health of their Amazon Affiliate links. Get started today with Linkmoney App and earn more Amazon Commissions from your affiliate website's traffic.