Linkmoney App fixes your Amazon Affiliate Links automatically and it also creates a downloadable Excel file of your complete Linkmoney Reports.
In order to download and view the Linkmoney App downloadable Excel reports, you will need to create a Linkmoney App account. You can view the Linkmoney App first-time starters guide here to see how to get Linkmoney App up and running for the first time.
How do I find the Linkmoney App Downloadable Excel File?
After creating an account, running a scan, and logging into Linkmoney App, head to your Linkmoney App Dashboard.

2. In the upper right corner of the Linkmoney App dashboard you will see your email, your picture (if you chose one), and a drop-down box. Click the drop-down box and then click Dashboard. If you would like to see what the Linkmoney App dashboard does and what it is, click here.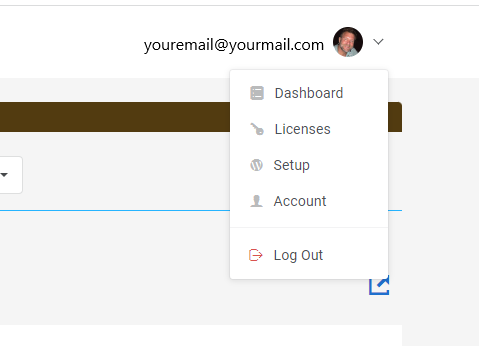 3. On the Dashboard you will see a dropdown box with all of your scans.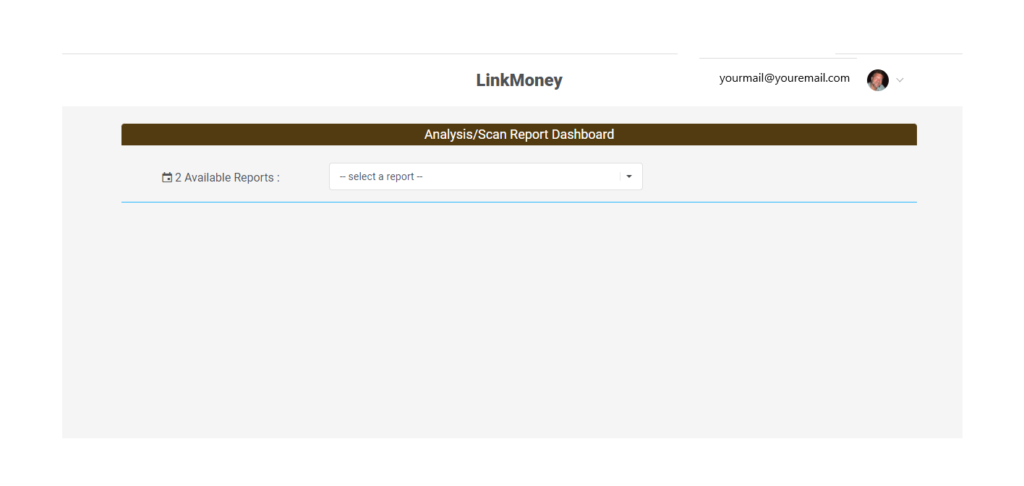 A. Select and click the dropdown box and a list of all your scans will show. To the left of the select a report scan dropdown box, you will see how many scans you have saved.

Linkmoney App saves your previous scans for your records and history.
B. Once you select a scan, you will be taken to your Linkmoney App Dashboard for that scan.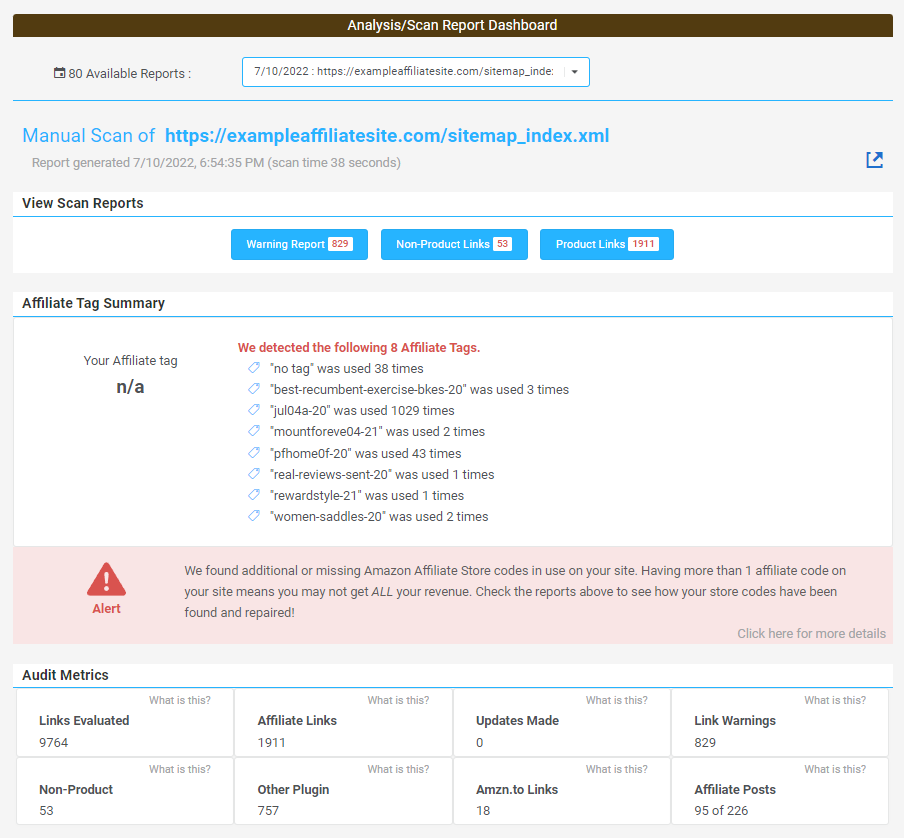 C. Click on any report.
D. This example shows the "Product Report".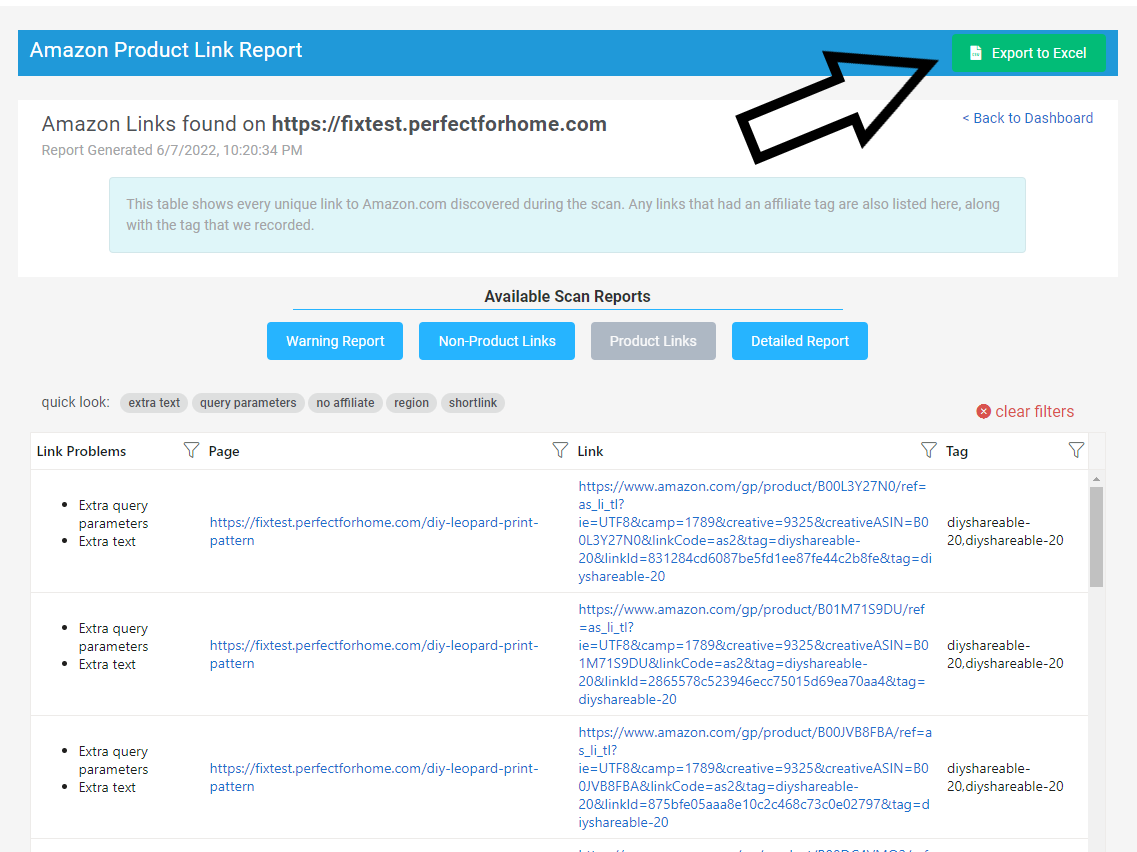 Click the Download Excell File button and a download begins.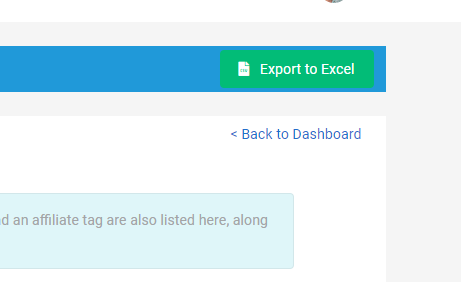 E. Go to where you download files or your computer's Download File and open the report.
What Reports Does Linkmoney App Generate?
Linkmoney App has four main reports, Each report has its own tables which can be sorted and filtered.
Warnings Report- This shows unexpected or potential link problems found on your site.
Non-Product Link Report– View a report about links to Amazon.com products that may be going instead to product searches, help pages, or even missing an ASIN.
Product Link Report- View a report about links to Amazon.com that may be product searches, help pages, or even missing an ASIN.
Detailed Fix Report– View a detailed look at the updates made to your affiliate links.
How do I read and use the Linkmoney App Excel file report?
The Linkmoney App Excel report will be specific to each of the 4 reports.
Open the report you downloaded. It will look like this: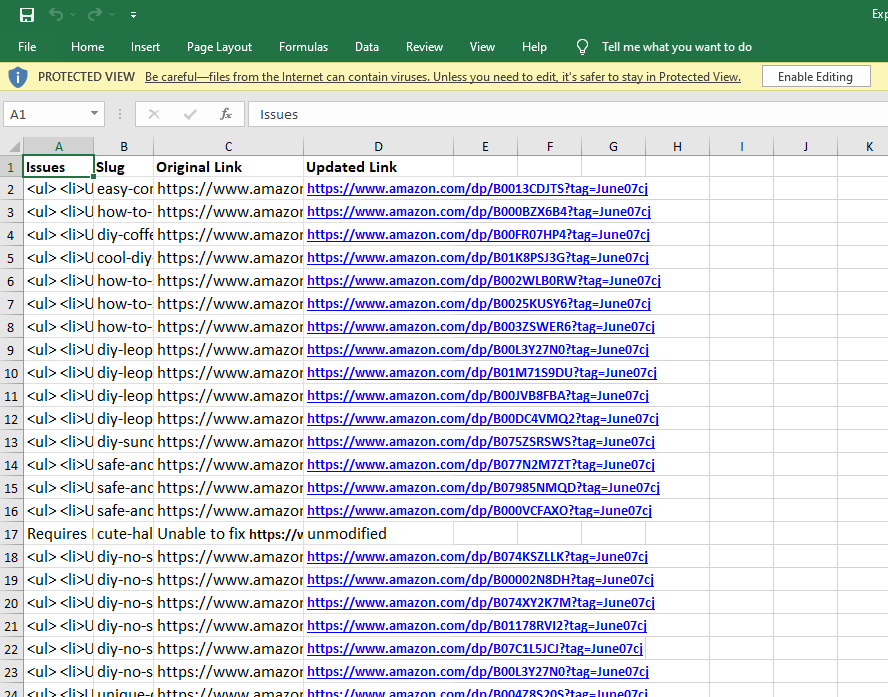 2. Stretch the columns out so you are able to see the fields.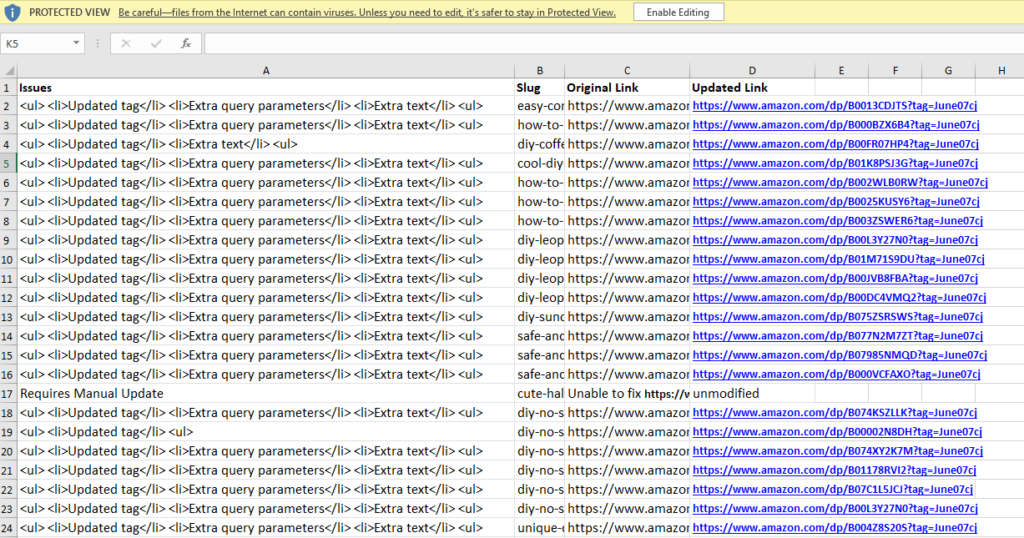 3. Go through the issues and make the manual suggested updates.
Can I use the Linkmoney App dashboard to make the updates and fixes to my links?
Yes, the Linkmoney App downloadable reports match what you see in your online dashboard. I find it easier to use the online Linkmoney App Reports than using am Excel file.
With the Linkmoney App Pro plan, you can run Linkmoney App to automatically update your Amazon Affiliate links, make the suggested manual updates, and then run the scan again.
The Linkmoney App Manual Plan is a one-time scan. But you still have access to the Online Dashboard.
Here is a screenshot of both reports side by side: