This "How To" guide assumes you have:
You have created a Linkmoney App account, setup your License Control Panel, and set up and activated your Plugin.
Now you are ready to fix your Amazon Affiliate links automatically. You have come to the right place.
How do I run a Fix Scan for the first time?
Running a Fax Scan is as simple as a button click. This article will walk you through the steps to running your first Fix Scan. 
A Fix Scan is when Linkmoney App automatically fixes your Amazon affiliate links. 
In other words, Linkmoney App will check your affiliate links and automatically fix the errors found during the Fix Scan. 
The other scan type Linkmoney App performs is called a Baseline Scan. 
The Baseline Scan is a one time scan that happens right after you create a Linkmoney App account. A Baseline Scan only reports the current Amazon Tracking ID's on your site and does not make any changes. 
Where can I see what Linkmoney App fixed on my site?
Step 1 Look at your Baseline scan
The reason we run a Baseline Scan is so you can see all of the Amazon Store Tags on your site prior to changing anything. 
You will need to go to your Dashboard to see the Baseline Scan. 
Many Amazon Affiliate sites use more than one Affiliate Tags.
If you do use more than one Amazon Affiliate tag read this article called "Linkmoney App Reserved Tags Explained" before running your first Fix Scan. 
The Baseline Scan is a full run of Linkmoney App, but nothing was changed. Everything that needs to be fixed still needs to be fixed.
This is what the Fix Scan will do- fix your affiliate links. 
How do I get to the Baseline Scan?
To get to the Baseline Scan, go to your Dashboard and select it.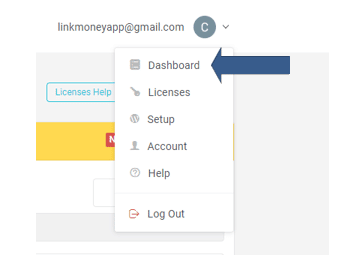 The Baseline Scan is always the first scan and the URL contains your Sitemap.XML
Sitemap.XML URL (Baseline Scan)


Step 2 Go to your License Page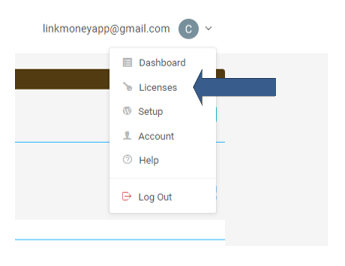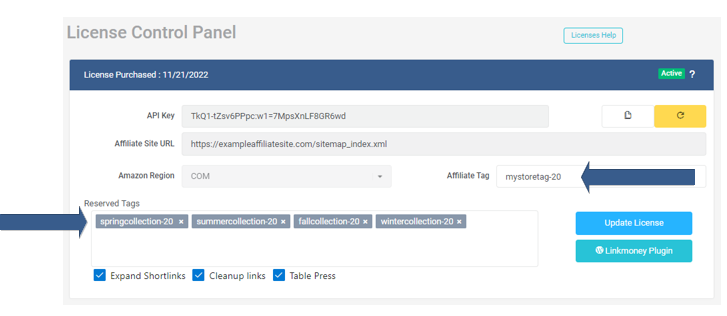 Make sure you save your settings.
If the Update License Button is "Solid Blue". You need to click the button to save your settings.

Click the Linkmoney App Plugin Button. 

Note: If you have not installed the Linkmoney App plugin and click the Linkmoney App Plugin button, WordPress will give you an error called "Sorry, you are not allowed to access this page".

4. Click the "Fix Affilaite Links" button to begin Fix Scan.
You will need to have entered your API key and activated the Plugin or you will see an error reminding you to do so when your click the "Fix Affiliate Links" button.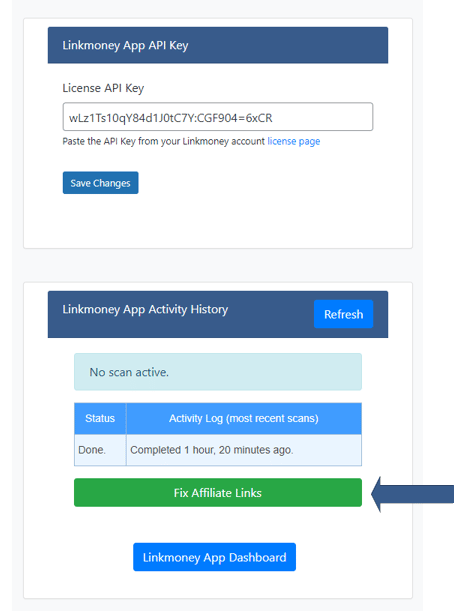 Once the Fix Scan is stared, the Fix Affilaite link button changes states
You will see the the Fix Affiliate button change to "Cancel Active Scan" when the Fix Scan has started. 

The Plugin will give the state of the FIx Scan.
Fix Scans can take anywhere from a few minutes for a small site, to several hours for a large site. 
To see the different states and status of the Fix Scan, we added them here.  
How will I know the Fix Scan is finished?
There are two ways to know when the FIx Scan has been completed:
1. The Fix Affiliate Scan button will change back to Fix Affiliate Links.

2. Linkmoney App will email you an email called  "Linkmoney App – Your reports are ready". 
Is this article missing something?
Please help us make this article better for everyone by submitting a question.